Merry Christmas from the Nobles 2014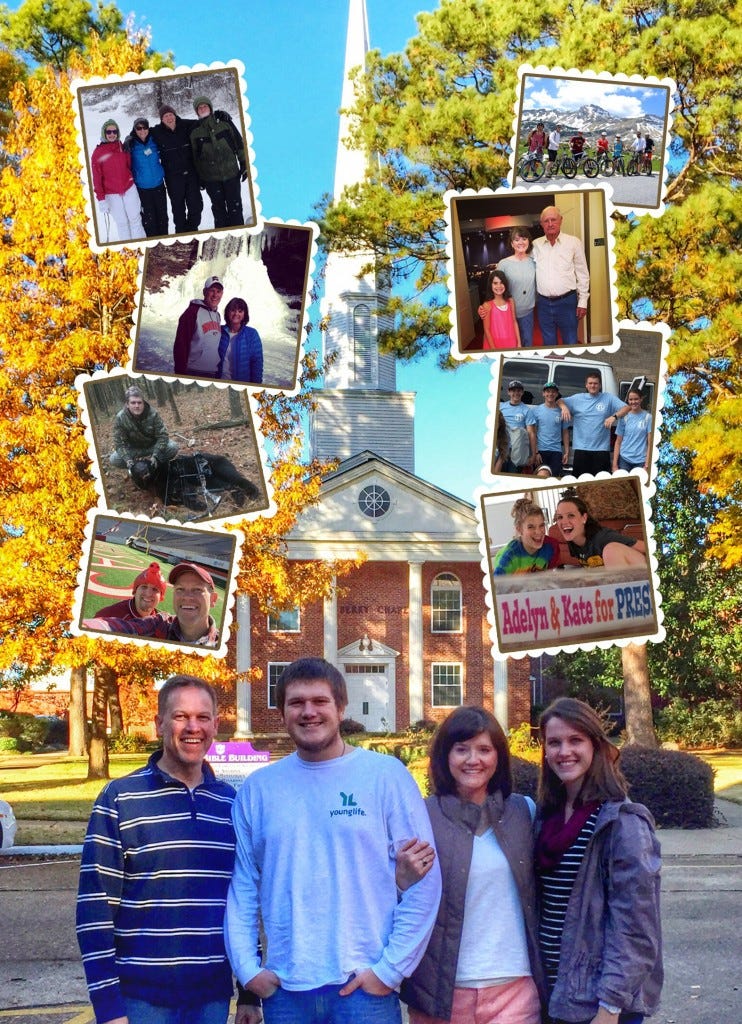 Exciting things have been happening this year for Northstar. This has made Jeff's year quite eventful. From the church purchasing 10 acres of land to hiring our good friend, Neal Nelson as Associate Pastor, we are overwhelmed by God's provision. Jeff was able to go to Montenegro on a discovery trip which has led to one of our church members returning there for a long stay to help our friends. They areusing a dynamic tourism websiteas theirbusiness model. Because there are so many outdoor recreation opportunities there, Jeff started running to get in shape for the trip. Since then he has continued running at least 3-4 times a week. Jeff has also had two fun media experiences this year. He and another guy in town were featured in the NRV magazine about being scooter drivers. More recently, Jeff wrote and produced a Razorback song/music video that our good friend and country music artist, Ben Coulter, sang. You can find it on YouTube under I'm a Bielemer. It has over 9000 hits, been on all the local Arkansas channels and even an ESPN write up. We are still waiting for the royalties.
Carolyn is still working at BHS and loving her job in the Guidance department. This past winter Blacksburg had record cold temps and snow. She and Jeff made the 3 mile trek to see the frozen Cascades, a 69 feet waterfall that is just up the road from where we live. This summer she was able to travel to Texas to help her sister move to San Angelo. A week-long line up of projects to work on with her grandmother, mom and sister is right up her alley. She also was able to drive to San Antonio to visit and go to church with her grandfather which always does her heart good. This fall we met our good friends, the Ramseys, at Ouachita Baptist University for all of our kids to have an official campus tour. (that's the background photo above) We saw many friends and the campus is even more beautiful than when we were there. We think Adelyn is sold on OBU, but Sam's roots are deep here in Virginia. Carolyn had several trips to Arkansas to the oncologist this year for some suspicious lymph nodes. We are still in a holding pattern. Though the tests came back negative, there are some other suspicious areas. However, God continues to answer prayers and we are so thankful.
Sam is a senior in high school. It just doesn't seem possible. We are soaking up every moment with him, even the annoying ones. He was able to go to YL camp again this year which is always a highlight of his year. He has applied to several colleges. He is leaning towards James Madison University or UNC-Charlotte. He is still undecided as to what he wants to major in but knows he wants to lead Young Life. So he is basing his decision not only on the school but on the Young Life programs. This fall Sam was able to lead the YL Bible study talk at one of his meetings. They said he did great. He spent a lot oftime preparing for the talk - if only he gave that much effort in his schoolwork... He and his friends had a team in the city league men's softball league. They had a blast. His latest feat was snagging a black bear while bow hunting for deer in the Jefferson National Forest. We are lucky he is alive, crazy kid. We have a freezer full of bear meat and he has turned the cape in to a taxidermist for a bear skin rug. He might have to sell his truck to pay for it, but it's once in a lifetime event, so he is willing.
Adelyn is in tenth grade and still excels in school-her classes and sports teams. This year she is swimming with the BHS swim team instead of basketball which shares the same season. She also plays BHS softball and is co-president of her Sophomore class with her best friend, Kate. So she stays busy. She continues singing and playing the guitar. It has been a blessing to watch how the Lord uses her and her talents. She is on rotation in the Northstar worship band and she leads worship periodically for the children and youth ministries. She and Sam along with their cousins, TJ and Daniel, went to MissionFuge with the Northstar youth this summer in TN. The camp focused on mission work around the area and was a blast yet was able to teach them to live beyond themselves. She is counting the days until March when she gets her driving permit. We have complete faith that she will be a great driver. However, we are not sure about her sense of direction. Exciting days ahead for all of us indeed.
Merry Christmas to you and yours!
Jeff, Carolyn, Sam & Adelyn