My sin, not in part, but the whole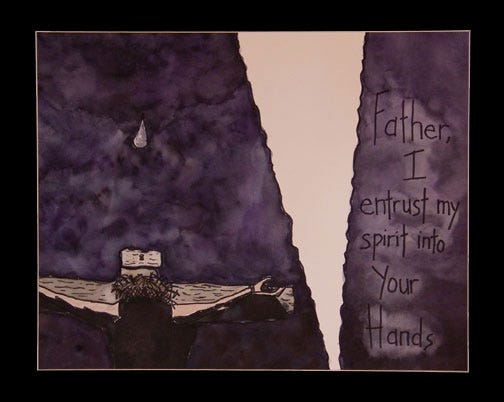 Sundown Friday. In years long before my own ancestry can be traced, a man's body was removed from rough wooden poles before dusk. For religious reasons, the body must be buried before dark. He was dead, certainly. A staggeringly unusual death. Drama. Political intrigue. Controversy. Desertion.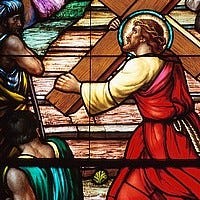 In only six hours, a man hailed as the nation's next King-Deliverer was no longer preaching or healing. He was simply... dead. As were the dreams and hopes of all who had dared imagine that this man, this strange man, from a ridiculed backwater village offered more than just welfare. He had claimed to offer life.
Unceremoniously, he was urgently thrust into a new tomb. The gathering dark even prevented proper annointing. Women would return later to properly prepare his body. Friday night signaled the Sabbath's beginning, however. It would be no sensational worship event. Jesus was dead.
As I pause to reflect on this "Good" Friday, I am sobered by the truth that it is only good because through Christ, I am now good. His death meant my forgiveness. His sacrifice meant my salvation.
In the soaring chorus of Nothing But the Blood, there is a line that I am today cherishing:
My sin, oh, the bliss of this glorious thought! My sin, not in part but the whole, Is nailed to the cross, and I bear it no more, Praise the Lord, praise the Lord, O my soul!
When Horatio Spafford wrote these lines in the early 1870s, he was suffering the loss of his children on a transatlantic voyage. In fact, his wife survived the crash of two vessels and telegrammed back to him these words: "Saved alone."
As he traveled to join her, he was notified when his ship passed over the location of the shipwreck that killed his children. It was on that ship that the above words were penned, along with the astonishing chorus:
When peace, like a river, attendeth my way, When sorrows like sea billows roll; Whatever my lot, Thou has taught me to say, It is well, it is well, with my soul.
On this silent night, with gathered dark threatening victory over all souls so many years ago, I for one am grateful that God was not inactive. Rather, He was purchasing for Himself the souls of all who would through faith trust in Christ alone.
My sins, not in part, but the whole... They are thrown as far as the east is from the west! Allelujah. Truly. May Christ be praised.
Such joyful truth has prompted John Piper to write the following entry on this Good Friday:
CHRISTIAN:

Hello, Death, my old enemy. My old slave-master. Have you come to talk to me again? To frighten me?

I am not the person you think I am. I am not the one you used to talk to. Something has happened. Let me ask you a question, Death.

Where is your sting?

DEATH, sneeringly:

My sting is your sin.

CHRISTIAN:

I know that, Death. But that's not what I asked you. I asked, where is your sting? I know what it is. But tell me where it is.

Why are you fidgeting, Death? Why are you looking away? Why are you turning to go? Wait, Death, you have not answered my question. Where is your sting?

Where is, my sin?

What? You have no answer? But, Death, why do you have no answer? How will you terrify me, if you have no answer?

O Death, I will tell you the answer. Where is your sting? Where is my sin? It is hanging on that tree. God made Christ to be sin–my sin. When he died, the penalty of my sin was paid. The power of it was broken. I bear it no more.

Farewell, Death. You need not show up here again to frighten me. God will tell you when to come next time. And when you come, you will be his servant. For me, you will have no sting.

O death, where is your victory? O death, where is your sting? The sting of death is sin, and the power of sin is the law. But thanks be to God, who gives us the victory through our Lord Jesus Christ. (1 Corinthians 15:55-57)
It's not just my sin. It's yours too - the whole. Victory in Jesus, our Savior forever...
Go to church this Easter.