Neighborhood block party
A few weeks ago we got an invitation to a neighborhood block party. We were pretty jazzed up about the opportunity to meet neighbors and share our Arkansas wisdom with all interested parties. Carolyn made a delicious strawberry-ish dessert she calls "dump cake." It bothers me to call it that, so I opt for the strawberry-ish dessert moniker.
At 5:08 this evening, we trudged up the street to where they had set up a tent and blocked off the traffic. What we discovered in the next couple of hours transported me back to recollections of Happy Days - albeit with an international flair.
We thoroughly enjoyed visiting, watching the kids play, and pigging out on chicken tenders and the like. We have neighbors from Korea, Sri Lanka, Japan, Poland, and China (those are just some that we met). It was awesome to see the kids all playing together; it was like a multi-cultural park.
Of course, most conversations got around to a "What do you do?" or "What brings you here?" question. When I responded that I was a pastor, I typically get deer-in-the-headlights looks. I'm going to have make up something better... maybe I can say I'm a cultural interpreter... or a metaphysical guide.
It's football time...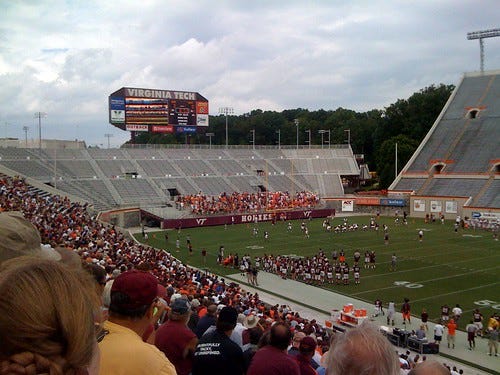 I could say I'm a fantasy football guru - cause it's that time of year again! Sam and I went to watch the Hokies practice today with one of his new friends from middle school. It was a lot of fun, and the stadium was packed on one side.