No silence: on personal retreats and the goodness of God
I'm writing from a cabin at Mountain Lake, just north of Blacksburg. It's where Dirty Dancing was filmed, but don't worry, I won't be doing any. This beautiful lodge has been the perfect getaway for my personal retreat this fall. It's been overcast and foggy (and cold) since I arrived, but the clinging fall colors and crisp freshness in the air are a gift to a tired pastor.
It's been a busy year. Very busy. In addition to seeing people leave due to transition and disenchantment with the church (thankfully, the latter is very few), I've seen God bring a host of new faces, families and friends. I've been deeply challenged in the past few months to focus on genuinely discipling all of our members. Our commission is clear in the scripture. We are to "present everyone mature in Christ." So, I've been praying and thinking about how to lead people to spiritual maturity without embracing a legalistic discipleship system.
We're also in the process of construction - in the permitting and site development phase. It's been so humbling to witness God's financial provision for this church whose demographics are half under the age of 30. I am deeply blessed to be given the privilege of leading and preaching regularly to this beautiful collection of God's people.
Personal retreats are focused discipline of mine. I know I need them. But this year almost got away from me. It was hard to find "time." And genuinely, I am great at finding moments of retreat, reflection and even mindless entertainment to stave off overwhelming burdens. A couple of hours in a coffee shop, a good book, a game of Xbox, or a run all contribute to keeping stress managed. Those cannot replace, however, regular, daily time in reading scripture. It's a purposed practice of mine. I sincerely believe with all my heart that God's Word has inherent power to renew me when I read with a listening heart and submissive spirit.
This morning, I read Psalm 96, and as you can see below, I asked myself:
What can I do today to join creation's song and the saints' celebration of Jesus as King of glory?
All of the verbs in the Psalm leaped out at me. There is SO much I can do to make much of Jesus: sing, proclaim His salvation, declare His glory, ascribe, worship, tremble before Him, say, rejoice, resound, celebrate and shout for joy.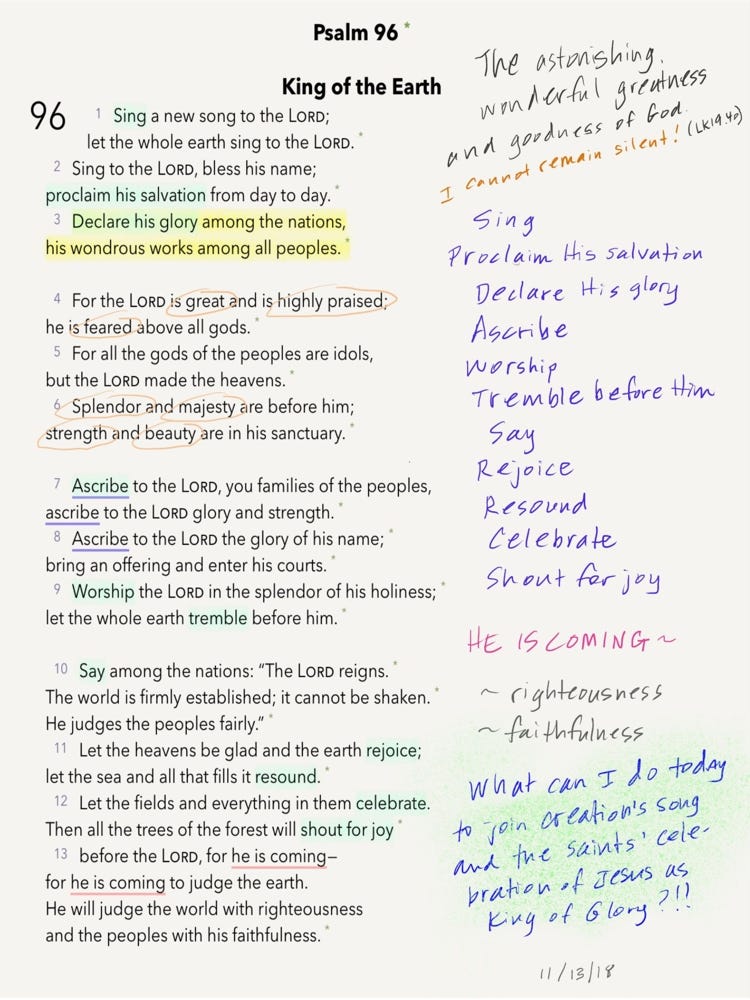 I was reminded of Jesus' words to the Pharisees in Luke 19:40, who when they urged Him to keep His disciples quiet and not praise Him as God (they didn't believe He was), He responded, "I tell you, if they were to keep silent, the stones would cry out."
When I was a teenager, our youth group would sing a chorus, "Ain't no rock.. gonna cry in my place.. as long as I'm alive, I'll glorify His holy name."
I want to do that today - to glorify and testify and proclaim and sing about how good God is.
For the Lord is great and is highly praised; he is feared above all gods. For all the gods of the peoples are idols, but the Lord made the heavens. Splendor and majesty are before him; strength and beauty are in his sanctuary.
He is good regardless of our experiences. He is good when times are good. And He's good when times are bad. He is good. I don't need a personal retreat to declare God is good, but if I don't declare His goodness from my retreat, after reading Psalm 96, I fear I'd be letting the trees and rocks cry out.
A personal retreat is incredible. But a retreat without a Redeemer will not ultimately renew. Even with the foggy, fall-bedecked vistas outside my cabin, the views will not restore. This pull-away from a busy ministry schedule is simply for the purpose of rest, reflection and reconnection to the source of all Life.
Are you there? Do you sense in your soul a nagging weariness? It may be time for a retreat - if you can't make a physical getaway - a change in scenery - happen, seek Him in a quiet corner, with an open Bible and a listening ear. Only He can heal or soothe. He can do it even in your busyness. He'll meet you wherever.
I'm grateful He has met me here. Makes me want to dance... just not like Patrick Swayze.
Entries from past retreats: