No social media withdrawals
On January 13, 2021 I said goodbye to Old Social Media. I deactivated my Facebook, Instagram and Twitter accounts. I didn't look back. No withdrawals, no digital longings. This post is about what I've learned in the past month and a half.
As a caveat, I had already ceased being active on Facebook except for useful things (Marketplace, sharing posts from church) and was only rarely active on Instagram at that point. Twitter was my OSM of choice, and I was very active there.
Facebook
As a campus minister in southeast Arkansas in the 90s, Facebook made a splash, but it was only available to college students. Eventually (as I recall) they opened it up to anyone with a .edu email address. Because the university I served on had provided me with one, I was able to get on Facebook then.
I was as intoxicated as anyone with its abilities over the years. It genuinely helped me reconnect with friends from high school, college, neighbors, and friends of friends. It was remarkable, until it wasn't.
I began using it rather than letting it use me a couple of years back, and from then on, it was a love/hate relationship. It was necessary for my role to be able to connect with people (or so I told myself).
I have found it harder to find/sell things locally. Facebook Marketplace is great. I think there's a niche for something that is classier than Craiglist that's also as connected as Facebook but without the privacy intrusions and... noise.
Instagram
It was delightfully fun for a while. Visually appealing. It was fun to have a photo blog of sorts and to see the creative eye of my friends and those I followed. Then Insta became Snapchat and started having stories, and shortly after, people posted more memes, political viewpoints, links and such. It became as noisy as a badly designed yearbook from high school.
Twitter
I feared I'd crawl into the fetal position over leaving Twitter. I am an early adopter and had been active for 13 years. Until someone proves me wrong, I'm claiming the title of the First Tweeter of Southeast Arkansas. I have met and made friends via Twitter. I'd composed extensive "Lists" on Twitter for specific content (Ministry Friends, Pundits, News, COVID Thinkers, Missionaries, etc) and so my I could switch over to a feed to glance at what was going on in that "world."
My why's
I had several people express concern to me about leaving these OSM arenas. I truly didn't leave in a reactionary way. I had been deliberating for years. The posts below show my concern and frustration ebbed and flowed.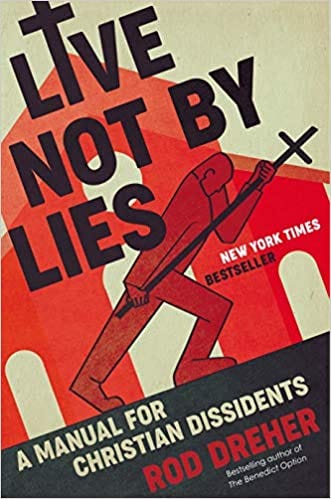 However, when censorship hit its zenith with the abhorrent Conservative Purge in January 2021, I had enough. The First Amendment is a precious gift of freedom to us and has enabled our country to promote and protect freedom of speech around the world. Yes, I know these companies are businesses, but I will not support them with my content and presence when they violate such a primary value. In Rod Dreher's book Live Not by Lies, he said, "Defending the right to speak and write freely, even when it costs you something, is the duty of every free person." (I highly recommend the book, by the way.)
No withdrawals
When I said goodbye to OSM in January, I anticipated withdrawals. I've been shocked. Apart from some muscle memory on my iPhone, attempting to "click" on apps in the first few days, in the past month and a half, I have had NO withdrawals.
There has not been a single day where I've "missed" OSM. Not one. Truly. My life feels quieter. I like being ignorant. I enjoy going to look for information rather than feeling like I'm trying to drink from a fire hydrant and then staying too long in an app.
Really, you don't miss anything?
I miss cassette tapes. You could toss them in the back seat and not worry about scratching them. I miss my purple Levi 501 jeans that I wore proudly in college. But OSM...?
Well, I miss people, obviously. But real relationships are sustained outside of OSM, so those are still present.

I doubt my followers on OSM frequent my blog. In fact, I've struggled to know how to best "promote" or inform friends when I write a new blog. I redesigned the blog to incorporate a subscription button so that new blog posts will be emailed out. I hope that when posts are informative, encouraging or entertaining that they do get passed around via email or OSM. (Is that hypocritical?)

Memes. I miss memes. But funny ones get sent to me via text by those who know I'll appreciate them.

Being "in the know." There was a heady reality of seeing something posted in a feed and then being one to repost or share what I'd learn with someone. It feels good to be "in the know," but truly, it was easy to release.
No judge zone
If you're still on OSM, have no fear... I don't care. ;) This has been a decision for me and one that has brought great space and even quiet into my life. I don't feel like it's impacted my leadership or my awareness negatively.
As a confession, I AM on Gab and have enjoyed it and actually found it more engaging than Twitter. When I transitioned to Gab, in three days I had more followers there than I had gained on Twitter in 13 active years. Crazy.
I'd love to hear from you in the comments below, and of course, subscribe or share!