Nuff said: Bad news believers, hashtag diplomacy, silver bullet of discipleship, single and satisfied?, kids sports, Kid President
Christian Stats and bad news believers
Ed Stetzer wrote an article for Christianity Today that helps expose a stat quoted by many a pastor and youth leader. You may have heard (including from me when I was a campus minister):
"86% of evangelical youth drop out of church after graduation, never to return."
Stetzer's article points out that it's not true. There are more dimensions to this number than one realizes, and he unpacks some of the needed interpretation of church attendance numbers among young adults.
Ever since reading Christians Are Hate-Filled Hypocrites: And Other Lies You've Been Told, I've been sobered about the misuse of stats by Christian leaders. My review of the book points out:
..the church in America is in much better shape than we've been led to believe. The conclusion of Wright's book urges us to think critically again and not to believe stats, polls and "research" — especially when our intuition tells us that theymay not be accurate.
Why are Christians so quick to believe bad news about the church?
Bad news sells.
We're quick to believe Jesus' words in relation to the end times, "..the love of many will grow cold"(Matthew 24:12) and nod when we hear bad news stats such as the one repeated above. But Jesusalso said "I will build my church, and the gates of hell shall not prevail against it." (Matthew 16.18)
Whose power is it, after all, that sustains the church to the end? Ours? Or His?
Hashtag diplomacy and causes
This political cartoon nails it: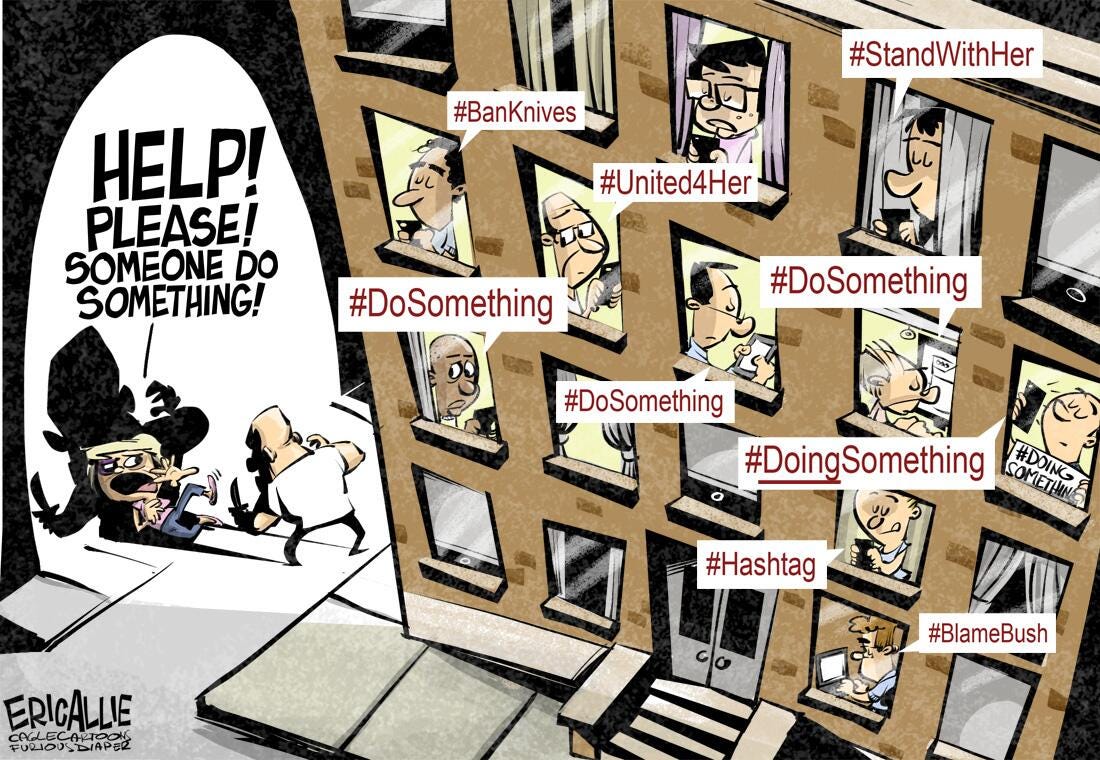 HT: Twitchy
The Silver Bullet: Discipleship
I'm not a huge fan of 3DM. I've written about my concerns here. However, they churn out some excellent, provoking material that can be of great benefit for those who process it well.
In an article called The State of the Evangelical Union, Mike Breen observes that between younger and older Christians, there's a tension between what the church currently looks like and what it should look like. One of the questions that older Christian leaders are asking themselves is:
"Do I ride my career out or do I really go for it?"
I've sensed that tension among leaders I interact with who have younger staffs. "What would you do if you could start from scratch?" Andy Stanley asked in one of his leadership podcasts. Pastors and leadersgo to conferences and retreats and return with grandiose ideas that don't fit their ministries, nor has God led them to implement them in their context.
"But it's working there..." we think. So shouldn't we implement what's working? Breen says that it's..
"..the constant search for the silver bullet. You see, there is such a bullet. It's called discipleship. But it is "a long obedience in the same direction." It isn't complex and easy. It's simple, but hard to do."
I wholeheartedly agree. That's why our church has been rethinking how to strategically bring Christians to spiritual maturity. This fall, we'll be offering smaller groups (we already do small groups) for the purpose of intentional discipleship. Stay tuned...
Are you single and satisfied?
Marshall Segal on the Desiring God blog offers 8 must-read principles for single people who wish to center their singleness on the Savior.
Perhaps the greatest temptation in singleness is to assume marriage will meet our unmet needs, solve our weaknesses, organize our lives, and unleash our gifts...If you're single, Satan is after you.
If there's a single article you read this weekas a single or for a single, let this be it. See what I did there? I don't miss a single thing. I'm singular in my focus...
Do kids sports hurt your church's attendance?
Credit: http://kidssportsgames02.blogspot.com
I'm wary of even posting this after the first post about bad Christian stats. However, stop by and read this article which has pastors blaming their declining attendance on kids sports scheduling practices and games on Sundays. Do you have absent families during sports seasons? In a related story, Christianity Today says that many families have "succumbed to the sports culture."
From Kid President: 2o Things you should say more often
Have you heard or seen a Kid President movie? You should take some time to visit the website. They feature Robby:
Robby, age 10, is my little brother-in-law. He's full of life and ideas. Robby has Osteogenesis Imperfecta (OI) a brittle bone condition which has resulted in him having over 70 breaks since birth. What's inspiring about Robby isn't his condition, but the fact that his condition doesn't define who he is. In spite of all he's been through he not only keeps going - he dances.
We all need a little more dancing in life, right?