Nuff Said: Why Churches Should Stay Home on Halloween, Photoshop Alternatives, Dumb Ideas About Jesus, The Power of Next, Discipleship DNA, What Ben Carson would do first if elected President
"Nuff said"is a collection of saved entries from across the interwebs. Here are some interesting, provocative and fun things for your reading and viewing:
1. Why your church should not do an event on Halloween:
It's not because it's an "evil" holiday. It's because you'll miss out on meeting your neighbors. I love Chad Grigsby's perspective on this.
2. "I have my own ideas about Jesus"
Once again Adam Ford has a great comic about how silly it is to attempt to like Jesus without liking His teachings. Click on the link or the first panel to read the entire strip: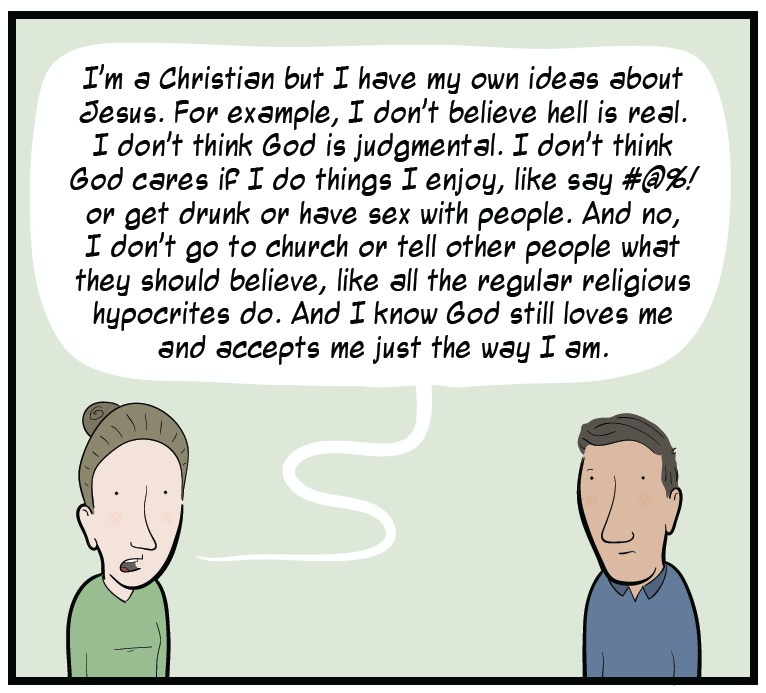 3. Is your church ready for "next?"
It's a question we ask at our church often. There are certain times of year that unchurched folks and the spiritually curious will visit our services - Easter, Christmas, and in our collegiate community, the beginnings of each semester. One of the principles we've begun practicing through asking that question is provide a next.
This thought is summed up well in the article Is Your Church Ready for the Sunday After Easter? The reality is that most churches gear up for these special times, but little thought is put into offering guests a "next" encounter.
Don't plan another worship service as your next. Plan a social event, a party or an informal gathering. It should be something that allows your guests to actually meet and interact with your members. An opportunity for them to discover that they like you. That you're normal. After Easter this past spring, our next was a local bowling alley and invited our members and guests to come and have fun. We paid for all the lanes and pizza. It was a huge hit, and we made some great connections as we laughed and played together. This fall, our next was renting out a local farm for a Harvest Hoedown. August-September are busy times for us as a church, so in October, we drew aside and provided a next - an evening of corn mazes, hayrides, s'mores and line dancing.
Having an intentional next demonstrates that you don't just want guests attending your stuff. You actually want to get to know them, love them and enjoy their company. As you do so, they'll also discover that your life is different because of Jesus. That begins the process of them trusting a Christian enough to listen to your story of faith. It also launches their own. Embrace next.
4. 10 software options instead of Photoshop
Photoshop is a beast. It can do everything from images to video. It's also expensive. I've been mad at Adobe ever since Macromedia went under. I used to use Freehand for all my design, still believing it was superior in every way to Adobe's Illustrator. I was even madder when Adobe bought Macromedia and killed Freehand without adopting any of its ease of use.
When Adobe went to a pricing structure requiring monthly payments, that was it. I was fed up. I finally found solutions elsewhere. These days, I use Affinity Designer for vector design (and Illustrator CS3 when I absolutely have to).
I still use Photoshop on occasion (CS 5), but for the past two years, I've been using Pixelmator. It's a wonderful piece of software that's only $30!
Here are 10 other options you might want to consider if you are also ready to move away from Adobe Photoshop.
What are other options for you?
5. Discipleship DNA
I love Riverside Community Church's Discipleship DNA. I encourage you to read the details here. Anytime a church thinks through how it is going to make disciples, I get excited. Here's their 10 DNA values:
Gospel Saturated

Stories

Obedience Based — Not Information Based

Relationship Based — Not Classroom Or Book Based

Reproducing And Accountable

Progressive And Self Feeding

Everyone Is A Potential Leader

New Groups Rather Than Big Groups

Intentional

Assessment / Evaluation
6. Dr. Ben Carson on what he'd do first if elected President ... back in April 2014
Frankly, I'm excited that two outsiders are the frontrunners for the GOP nomination. I love politics, as I've mentioned before. Here's Dr. Carson's take on what he'd do first: