Nuff said: The Eisenhower Box, porn addiction in the church, Why Dilbert hates goals, Are youth leaving the church? and the Celebrity Pastor Fantasy Draft
Nuff said is a collection of posts/articles from around the web that has drawn my attention in the following ways:
Made me think

Made me wonder

Made me feel
Here's what I've noticed lately:
These simple productivity principles have become such an integral part of my task filter that I don't realize I am applying them. The hardest thing is to spend extra time delegating projects or tasks when I think I could get it done faster. When they're not urgent/important, I should give them away and focus on what is.
"Eisenhower had an incredible ability to sustain his productivity not just for weeks or months, but for decades...His most famous productivity strategy is known as the Eisenhower Box and it's a simple decision-making tool that you can use right now."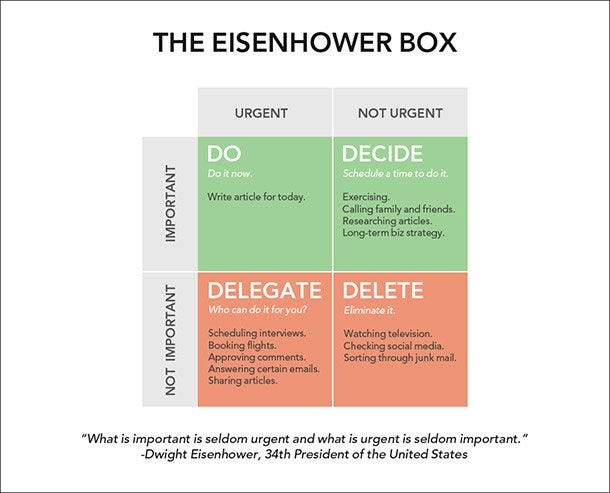 This is an immensely helpful article by Luke Wilkerson on the Covenant Eyes website. The 2018 statistics compiled by CE shares results from a Barna survey conducted in 2014:
64% of self-identified Christian men and 15% of self-identified Christian women view pornography at least once a month (compared to 65% of non-Christian men and 30% of non-Christian women).
In the article, Wilkerson said, "To be clear, the study did not see any relationship between religiosity to the actual use of porn. Christians don't use porn any more or less than non-Christians (according to this study). Rather, a Christian who watches porn at a certain frequency is far more likely to say he or she is "addicted" than the non-religious person who uses porn at the same frequency."
Whether someone is "addicted" to porn or not is a confusing argument, but the article helps us understand how to lovingly help and encourage those who may turn to porn for various reasons.
The church must remain clear that pornography is not essentially wrong because it is addictive, but because of its titillating and deceptive message: it rips sexuality from its relational context and presents human beings not as creatures made in God's image, but as sexual commodities, something to be bought and sold.
I'm thankful for the men of our church who facilitate what they call a "MAN" Group (Men's Accountability Network) to provide a place of community, honestly, prayer and proactive encouragement.
"The biggest problems with goals is that they're constantly making you feel like a failure." ~ Scott Adams
If you have succumbed to making endless goals for yourself, this is a must-read. Adams advocates embracing a systems approach to life rather than a goal approach to life. While this may sound like mumbo-jumbo on the outset, think about it.
Are you more motivated by pursuing a goal that you've set for yourself/your company, etc.? OR.. are you more motivated by living your daily life, every day, in a way that adds value to what you did the day before? While this could be applied toward moving toward a goal, it's much more natural for us "ordinaries."
One of the most-used statistics (even though it's false) goes something like this:
"86% of evangelical youth drop out of church after graduation, never to return."
This article by Ed Stetzer exposes that false statistic, but it does encourage the church to be alert and aware as to what's really happening with its youth. I wrote a blog post reviewing Bradly Wright's bookChristians Are Hate-Filled Hypocrites… and Other Lies You've Been Told in which he also exposed this pervasive church myth.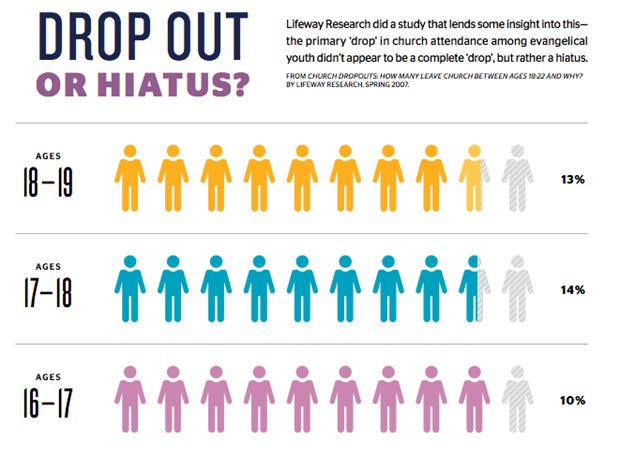 Here are the three takeaway points for churches (and youth ministers):
Disciple, disciple, disciple.

Have a home with committed Christian parents.

Recognize that it takes a church to raise a committed young adult–involve other adults in the discipleship process.
Last, but not least.. Jon Crist shows us how to do a celebrity pastor fantasy draft (I didn't make the cut.)
https://www.youtube.com/watch?v=lr8dECuoGTo
As always, leave your comments below! Which article caught your attention most?