'Nuff said: Surviving Christmas Shoes, Sexy Christianity, Strange Fire, War on Christians
I've tried various names for my occasional collection of random posts. I used "a la carte" for a while, ripping that off from Tim Challies who uses it on his blog. Trevin Wax has "Worth a Look." I tried "Friday Randomness" for a while and while it was self-explanatory, it wasn't unique. Tonight, I remembered that in the weekly humor column I wrote for the student newspaper at Ouachita as a college student, I ended each column with "nuff said" as a nod to Stan Lee in Marvel Comics (I collected Spiderman growing up.)
So that's the new tag for these random posts. Nuff said.
How to Survive the song Christmas Shoes by Jon Acuff
Jon has five helpful tips for dealing with the atrocious song during the holidays. Here's one that's most helpful:
Stop being friends with people who say it's not a bad song. They're wrong.
Sexy Christianity
Kyle Donn has written about the trendiness of current hip Christianity that embraces causes and seeks to "change the world" but somehow manage to avoid changing its own heart.
This kind of Christianity is dangerously cool. And that's the thing… it'sdangerous. Here and there, it's spot on; but my fear is that it flirts with the edge and settles for the empty satisfaction of a cultural ego-trip — thirsty to hear cool people say: "Wow! You're doing great things for God!"… It says, "I've got style… and heart." And when our "style" starts to get a little to close to our "heart" our faith begins to become as skin-deep as the skinny jeans we like to wear. It's a TOM-wearing, book-and-Bible-reading, simple-living, guitar-playing, coffee-drinking, bare-footing, leaf-licking, justice-loving, short-term-missions-tripping Christianity. And itlooksreally good. It makes sure that everyone knows that we love homosexuals (which we really do) and have a real distaste for legalistic and hypocritical Christians (which we really do). This kind of Christianity is… well… sexy.
Donn aims for the heart of this re-baked legalism while graciously loving those that are blinded to it. I encourage you to read the article.
When a believer is more interested in the idea of loving Jesus than actually loving Jesus, then that isnotChristianity. And we ought to wage a war of wrath upon it — mortifying, dismembering, and crucifying it, and then putting it in a tomb where it belongs. We ought to react in unconcealed hatred for it because it steals praise from God and puts it upon men, even if only in the most subtle and unassuming ways.
Lessons learned from the Strange Fire conference
John MacArthur spearheaded the Strange Fire conference in October. If you've not heard about it, you may have had your head under a rock in the world of Christian theology. The name of the conference was taken from Leviticus 10.1 where Aaron's sons Nadab and Abihu were killed before the Lord for offering an unauthorized (King James translates it as "strange") fire/offering.
The gist of the conference was to advocate the cessationist viewpoint about spiritual gifts and their abuse. MacArthur and some conservative theologians believe that the gift of tongues, hearings and miracles have ended after the composition of the Bible. They teach (at times convincingly) from scripture that these sensational gifts were given for a limited time and their use today is akin to the unauthorized/strange fire mentioned in Leviticus.
Tim Challies wrote an entry reflecting on the conference, and one of his more salient paragraphs urged Christians:
We always face the danger of making our theology about who we believe rather than what we believe. The last thing we want or need is "I am of MacArthur" and "I am of Grudem." I am sure this is the very last thing those men want. So even while we take our cues from the men we admire and the men who may think better than we do, let's be sure that we are all Bereans, that we are all going back to the Bible to determine what we believe. Let's be known for what we believe far ahead of whom we believe.
The War on Christians
On February 6, 2012,Ayaan Hirsi Ali wrote an article in Newsweek magazine in which he asserted:
But a fair-minded assessment of recent events and trends leads to the conclusion that the scale and severity of Islamophobia pales in comparison with the bloody Christophobia currently coursing through Muslim-majority nations from one end of the globe to the other. The conspiracy of silence surrounding this violent expression of religious intolerance has to stop. Nothing less than the fate of Christianity–and ultimately of all religious minorities–in the Islamic world is at stake.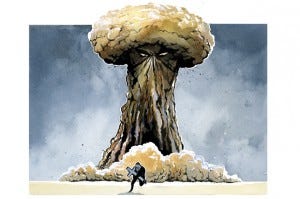 Image from The Spectator article
John Allen wrote an article in The Spectator over a year later (October 5, 2013) entitled The War on Christians with the tagline "The global persecution of churchgoers is the unreported catastrophe of our time."
This echoes Kirsten Powers' article in The Daily Beast in September 2013 (which I referenced in another blog post entitledWhy you'd better speak up, cherish and remind one another about the preciousness of religious freedom).
It's downright scary how American Christians are silent about the bloodshed. Is it because they don't know? The American media are turning their backs on the story, and President Obama refuses to acknowledge it, eerily courting radical Muslim leaders in Egypt and Palestine.
Powers quotesLutheran pastor Dietrich Bonhoeffer in her article. He was executed for his efforts in the Nazi resistance:
"Silence in the face of evil is itself evil. Not to speak is to speak. Not to act is to act."
Get informed. Don't stay silent as the people of Germany did while Hitler exterminated the Jews of Europe.
On a lighter note
If you haven't subscribed to Tripp and Tyler's Youtube channel yet, go do it now.
Here's one you might enjoy:
Nuff said.