Nuff Said: Is "peer review" peerless / standing against transgenderism / Harry Potter in comics / a 2014 VT flyover / and Adam Ford
"Nuff Said" is a collection of articles that caught my eye on the interwebs. The phrase nuff said is taken from Stan Lee, who would often use it in Marvel Comics. The articles I link to are offered on the hope that they'll generate thought, discussion and perhaps even consternation. At least one is intended to bump your funny bone. It is always telling which one does that for each reader. ;)
There's No Hiding Behind Claims of "Peer Review" Anymore
This article is from 2014, but it sounds like it was written in response to the vagaries of science in the last 18 months. It's been claimed that "The gold standard for modern scientific achievement is the publication of new results in a peer-reviewed scientific journal." (Source) However, what you may not know is that retractions are published all the time by scientific journals. In one stunning example in 2014:
"The reason for the mass retraction is mind-blowing: A "peer review and citation ring" was apparently rigging the review process to get articles published. You've heard of prostitution rings, gambling rings and extortion rings. Now there's a "peer review ring."
It's why a blog like Retraction Watch exists. It helpfully points out what the scientific elites would like to quietly sweep under the rug. Mistakes are made all the time. While the media trumpets stories published in scientific journals that advance a singular narrative, you'll be hard-pressed to find them giving equal space and fervor to the discovery of errors in what they had previously lauded.
Standing against transgenderism
I want to go on record in the strongest possible opposition to transgenderism as I can. Particularly when involving children or minors, it is brutal, deluded, abusive, evil and morally wrong. From a biblical perspective, it is horribly sinful. Those who encourage or even remain indifferent to it are like those Jesus described as deserving a millstone hung on their neck and tossed into the sea. (Luke 17:1-2)
I recently listened to a podcast by Allie Beth Stuckey that was so disturbing that it wrecked me for my relative silence on this issue. In it, Brandon Showalter called transgenderism "the medical scandal of our time."
Consider these resources:
"The former Johns Hopkins chief of psychiatry also warned against enabling or encouraging certain subgroups of the transgendered, such as young people "susceptible to suggestion from 'everything is normal' sex education," and the schools' "diversity counselors" who, like "cult leaders," may "encourage these young people to distance themselves from their families and offer advice on rebutting arguments against having transgender surgery."

Dr. McHugh also reported that there are "misguided doctors" who, working with very young children who seem to imitate the opposite sex, will administer "puberty-delaying hormones to render later sex-change surgeries less onerous – even though the drugs stunt the children's growth and risk causing sterility."

Such action comes "close to child abuse," said Dr. McHugh, given that close to 80% of those kids will "abandon their confusion and grow naturally into adult life if untreated …."
"Haven't you read," He replied, "that he who created them in the beginning made them male and female?" (Jesus, Matthew 19:4)
Harry Potter in eight comics
If you somehow missed the Harry Potter boat and wanted to read all the books now, you'd have to flip through 4109 pages spread across 7 books. Or if you just want to catch up with the Harry Potter movies instead, you'd have to sit and stare for 19 hours and 38 minutes for all 8 movies. Or you could just read this comic.
You can head over to artist Lucy Knisley's LiveJournal and see her work!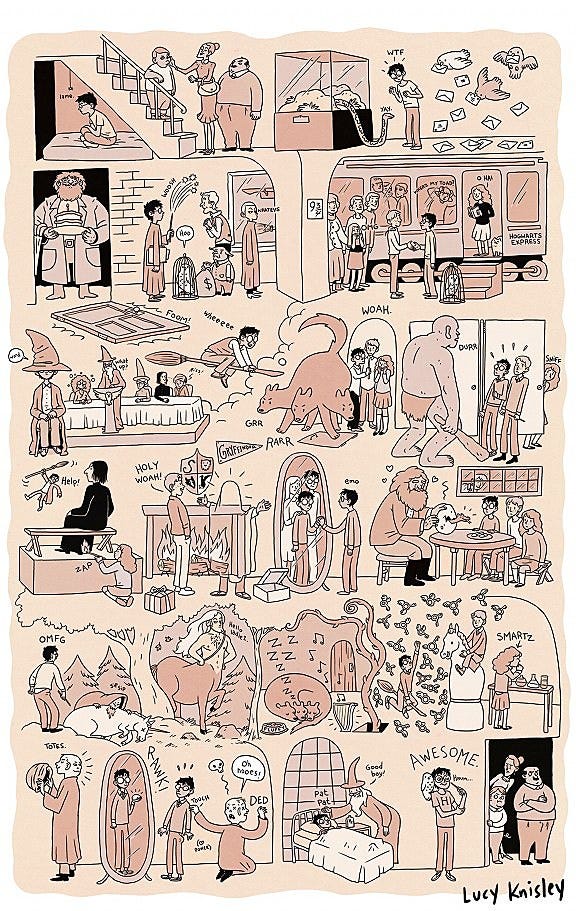 Photos from a Virginia Tech flyover in 2014
We live in Blacksburg, Virginia, home to the Hokie Nation! Ivan Morozov is an amazing photographer. He took some beautiful shots of the Virginia Tech campus from a fall flyover back in 2014 that are worth ogling. In particular, it's amazing seeing the construction of the athletic practice facility halfway done. So much has been built (and is currently being constructed) since then!
Credit to Ivan Morozov
Get to know Adam Ford
Adam Ford... you may not recognize the name, but you'd have to have been under a rock to not have heard of The Babylon Bee. Adam is the creator of that amazing satire site. He also created Not the Bee, a site for real news that sounds like satire and Disrn (say "discern") that was a news site. Recently, he announced that Disrn is being folded into Not the Bee. But Adam is also a cartoonist! He's worth a follow on Instagram if you use that!