Nuff said: Saving Daylight, the church "stand and greet time," the iPhone cone, why go to church and more
The movie that needs to happen.. about Daylight Saving Time
HT: Jamie Sanchez for posting on her FB wall
The Stand and Greet time at church... taboo?
Does your church do a "stand and greet time?" Ours does. And then I read this article. We had a discussion about in our staff meeting time this week, and we were inconclusive. Our excuse for continuing? We think our church enjoys it... because we're actually friendly. However, is that a conclusion that is delusional simply because we're leaders of that church? I'd be really interested in your feedback here in the comments!
Here are the seven reasons from the article about why people don't like it:
Many guests are introverts.

Some guests perceive that the members are not sincere during the time of greeting.

Many guests don't like the lack of hygiene that takes place during this time.

Many times the members only greet other members.

Both members and guests at some churches perceive the entire exercise is awkward.

In some churches, the people in the congregation are told to say something silly to one another.

Not only do some guests dread the stand and greet time, so do some members.
The iPhone cone
Do you need this?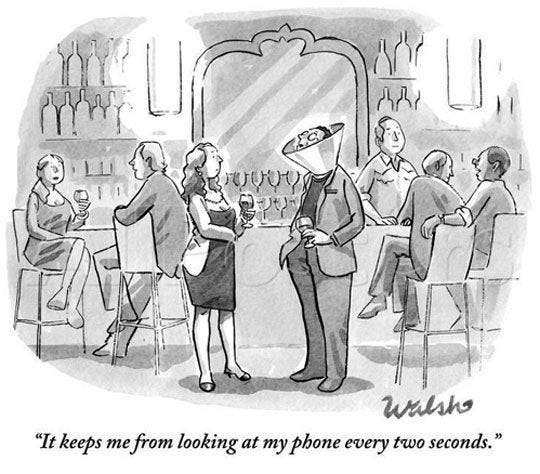 HT: Jon Acuff at stuffchristianslike.com
Why should you go to church?
Sandy Young, one of the elders at Blacksburg Christian Fellowship, posted this quote by C.S. Lewis on his blog about why Lewis got over himself and started attending church:
"I thought that I could do it on my own, by retiring to my rooms and reading theology, and I wouldn't go to the churches. . . But as I went on I saw the great merit of it. I came up against different people of quite different outlooks and different education, and then gradually my conceit just began peeling off. I realized that the hymns (which were just sixth-rate music) were, nevertheless, being sung with devotion and benefit by an old saint in elastic-side boots in the opposite pew, and then you realize that you aren't fit to clean those boots. It gets you out of your solitary conceit." (C. S. Lewis)
He linked a more substantial article by Ed Stetzer at Christianity Today that is well worth reading about why you should go to church.
Tighten up your church announcement writing..
Here's a quick, helpful article about making your church announcements more readable and understandable for an information-overloaded culture.
Nuff said.. for now.