Ode to a staff team
Today was another interesting day around the Northstar Church offices. Taylor Swift's Shake It Off may or may not have inspired some video that may or may not wind up being posted somewhere. On top of that, I confessed to everyone that I'd been making decaf coffee for over a week. No one had noticed. Then there was the strange experience of going into the guys' bathroom and discovering it smelled like a Christmas tree farm. I asked around, and Cody first said, "It's because I ate a Christmas tree." Then he explained that there's some sort of spray on top of the paper towel dispenser that he decided to use.
There's never a dull moment.
It's an incredible joy and privilege to serve God and His people with a group of leaders who are humble, joyful, committed and talented. I'm the senior adult on staff, but our wide range of age demographics doesn't seem to impact our cohesion or our enjoyment of each other.
At a staff retreat last month, a few of us talked the others into doing a role play as a fun group exercise. We convinced the rest of the staff that it was a skit, and we proceeded to hand out assignments that were, well, completely made up on the fly. The result was this:
Then there was the time I hid in the kitchen cabinet and scared one of our interns to death...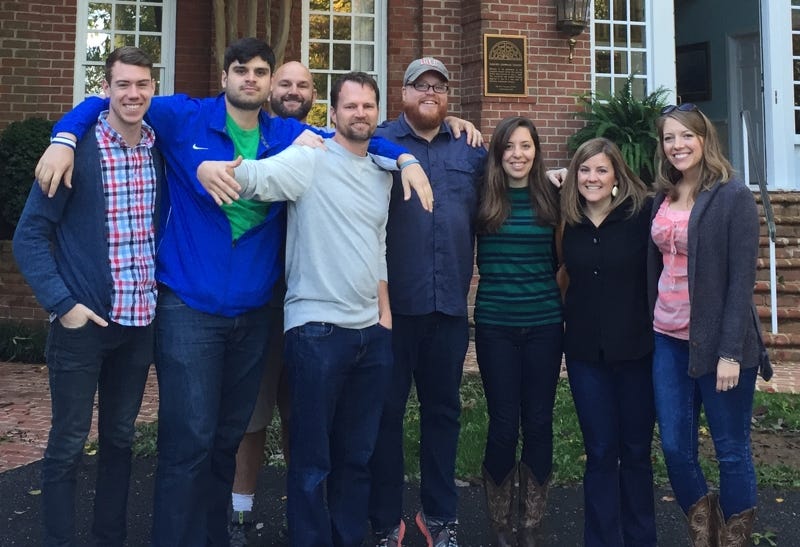 Each day brings some new moment of hilarity and adventure. We need it because some days are simply hard. Ministry is taxing emotionally, spiritually and mentally. It's no accident that the apostle Paul wrote:
"As for you, brothers, do not grow weary in doing good."(2 Thessalonians 3:13)
Some days are plain disheartening as you hear of folks making poor decisions, receive scathing emails, and see the underbelly of church life. It's on hard days that it's encouraging - deeply - to have a great team.