On the road again
We're hitting the road today for westerly places. This weekend is Homecoming for my alma mater, Ouachita Baptist University and alsomy 20th college reunion. To Carolyn's delight and my chagrin, we'll be attending Tiger Tunes on Saturday night.
Before there was Dancing with the Stars or America's Got Talent, there was Tiger Tunes. It's a student production in which organizations compete in choreographed musicals centered around a theme that each organization has picked out. Does anyone feel my pain?
One year that Carolyn was in it, her EEE Women's Social Club (sorority) were noses. Yes, you read that right. That's why I'm so excited she decided to pick me to attend Tiger Tunes with her.
Carolyn will also be having day surgery on Wednesday for a biopsy procedure. Her recent checkups showed a couple of areas that the doctors felt it best were removed and tested. At this point, there is no sign of cancer, only some "precancerous" material. We would obviously appreciate your prayers.
We're excited about spending time with family and Arkansas friends. The kids and I are hoping to work in a trip to Monticello during the week while Carolyn recuperates. You can follow my Twitter feed this week for updates if you just enjoy being a digital stalker.
Here's some before/after pictures for your enjoyment...
Us in 1990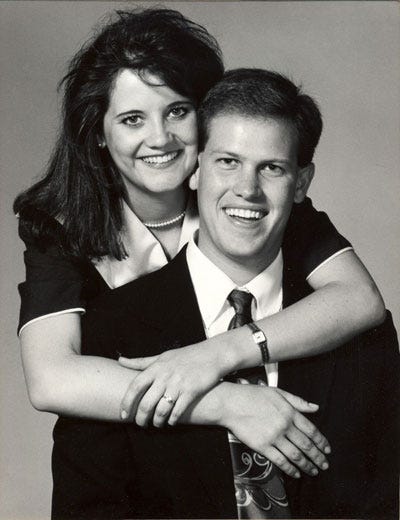 Us Plus in 2009