Our Story: Miracles
Now where were we in this epic saga? Oh yeah...
However, in the midst of incredible activity, ministry and delight, our life was turned upside down again.
You see, not every "upside down" moment is bad, thank goodness. Between 1997-1999, two incredible miracles took place during our collegiate ministry days at UAM. Both of them landed Carolyn in the hospital.
I remember that room in Baptist all too well. I was scared but trying to crack jokes to take the tension off of the upcoming procedure. Carolyn had insisted that we bring our portable CD player, and I think we listened to Watermark's debut album 12-13 times in a row. Each time I attempted to change the CD to something else, Carolyn growled, "Leave it alone!" So I did.
It was March 1997. And Carolyn was huge. With Christy Nockel's beautiful voice singing praises in the background, God graciously and kindly gave us something we had been told would probably not be possible. We were given a child, a son. Aptly, we named him "Samuel," because like the biblical mother of Samuel in the Old Testament, we had asked the Lord for him.
Carolyn had been cooked and refried by radiation during her first cancer go-round in 1991-92. During the second reoccurrence in 1994, she had the hardest chemo she's ever had. She lost most of her hair and wore hats - the whole deal. We were always told that because of the treatments she received (and where she received them) that we might not be able to have kids. At the time, however, we were more focused on surviving than having kids.
When we learned she was pregnant in the summer of '96, we were overjoyed. And Sam was a strapping, healthy, FAT baby boy. I mean, he was huge - 9lbs, 11oz. And Carolyn had him through natural childbirth. That means no drugs. Just screaming. But no drugs. I asked for drugs...
The only health issue for us during that time was that Caro was struck with Bell's Palsy on the right side of her face. She was horrified, and of course, I am forbidden from posting pictures. But for the first few months after we brought Sam home, she looked a little like a female Two-Face in the Batman comics. I tried to post a picture on Facebook a while back, and she instructed me gently to remove it.
Flash forward almost three years to September 1999. Same hospital, different room. Same big Carolyn. This time, however, there was a complication with the pregnancy. It was breach. In spite of Caro's desire to have the baby naturally again, we were scheduled for a Cesarean section, and the doctor invited me to participate in the birth by cutting the cord.
As Dr. Watkins sliced open Carolyn's belly like a ripe watermelon, I saw these funny black spots hovering around the room. "I'm about to faint," I thought. "This will not be good."
It got worse, mainly because I stayed conscious. The doctor began tugging - literally - on the sides of Carolyn's incision to make the open a little larger for the baby. I was totally grossed out...
Until she pulled out a squirming, crying pink infant and announced, "It's a girl!" And so in a span of two and a half years, our Father had lavished His love on us by giving us two children against all odds.
I reached across Carolyn and proudly sliced the bloody umbilical cord with the provided scissors. I've always understood the need to "cut ties" at appropriate moments in life, but this cutting was so deeply meaningful.
Deeper Meaning
In both births (and in all births), this severance from one life allows you to live another. Humans go from breathing amniotic fluid to breathing air. And we begin to grow and develop as we're nurtured in love by parents.
It has so many spiritual implications, and it's radically comforting to connect with Jesus' words in John 3 that "you must be born again." In faith, we cut our ties with a world that we've been born into to be born again into another world, a world in which we will be nourished and loved by a Heavenly Father and His provided family - the church.
Home Life
They were yelling at each other tonight as they jockeyed for position on the Xbox 360. They were playing together innocently in a recent warm pre-spring day as they sprayed each other with the hose on the trampoline. Their laughter - and their yelling - are still our blessing.
For whatever amazing reason, God graced us with children. In spite of health issues... and in spite of ourselves. Being parents has deepened our faith and understanding of God as Father. It has increased our dependence upon Him in moments where we're helpless to comfort and hapless to control.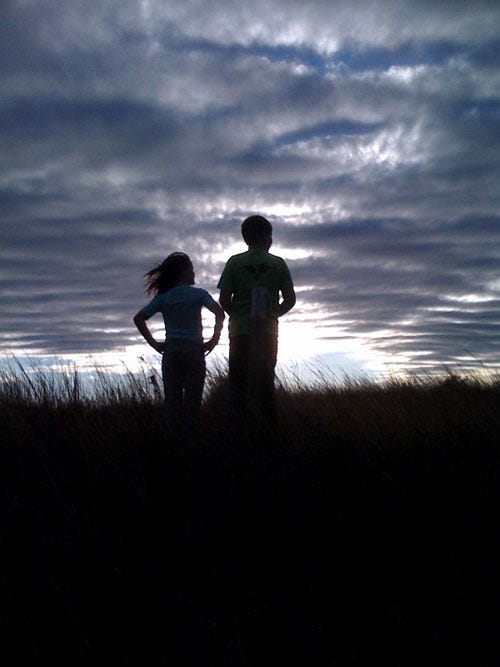 Sam is our loyal, golden retriever personality. He's obnoxious like all boys his age, but he's extremely sensitive and easy-going. He loves hunting, sports, and just being at home. I particularly love that he's competitive but that he doesn't mind losing. He just loves playing the game - any game.
Adelyn is our family comedienne. You never know what will come out of her mouth yet. She loves dance, softball, swimming, and playing in her room. She can spend hours playing "school" (with lesson plans and seating charts) cooped up in there. (On the other hand, the only time Sam is in his room is when he's sleeping.)
The Collegiate Family
I'm still convinced that there is no better environment to raise kids in than around Christian college students. Our life and ministry at the BCM were the only thing our kids knew until they were ages 6 and 3. They consider it normal for dad to go overseas for the gospel of Christ at least once a year. They considered it normal to see young adults eager to follow Christ, to love worshiping together, and to talk about the things of God as easily as they talked about sports or movies.
We had eager babysitters for six years! (One of them even locked herself accidentally in our bathroom while we were dining out one night.) Those students loved on our kids and treated them like a little brother and sister. Even today when we see former students, they beam with delight at the growth of our kids. They remember when... and they remember how... both of our kids are miracles.