Book Review: "Me, Myself and Bob"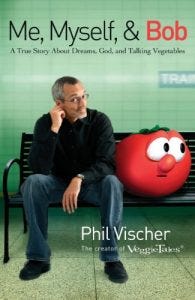 This book was a gift from my friend Amy. As an aside, if you're a mommy blogger or willing to stalk mommy blogs looking for exceptional content, her blog Snoodlings should be your first stop. I rarely get more than 10 comments on any entry here - but she consistently has astounding interaction on her blog. It's a real community. Notes from the Trail at times has about as much interaction as asking our 13 year old son how school went that day.
The back story. Why would I want to read Phil Vischer's book about the collapse of the Veggie Tales kingdom?
Phil, Myself and Bob
I was watching Veggie Tales before we had kids. Everyone in college ministry in the 90s was. When Vischer points out in his book that it was college students that helped promote and bring VT (Hokie fans, don't get excited) to almost cult-like popularity, I vividly remember those days. A couch in the Baptist Collegiate Ministry at the University of Arkansas at Monticello was an ideal setting to belt out "Oh Where Is My Hairbrush?" with a dozen students. It was a spiritual experience.
VT was/is innovative. It was funny. It was profound. Phil Vischer wasn't a household name; Bob the Tomato was. And therein lay the problem behind the scenes. In this amazingly candid book, VT fans are given thestory of Christian notoriety and the failure to resist seizing glory from God.
While Bob and Larry are entertaining and pointing kids, collegians and parents to simple, profound biblical truths, Vischer and the Big Idea staff are a whirlwind behind the scenes, hoping to blow away Disney in their pursuit to become a wholesome family entertainment company.
Vischer would have done well to consider Jeremiah Burrough's words in The Rare Jewel of Christian Contentment:
Do not promise yourselves too much beforehand; do not reckon on too great things... Those who look at high things in the world meet with disappointments, and so they come to be discontented. Be as high as you will in spiritual meditations; God gives liberty there to any one of you to be as high as you will, above angels. But for your outward estate, God would not have you aim at high things. 'Do you seek great things?' said the Lord to Baruch, 'Seek them not.' (Jeremiah 45.5)
After reading Amy's profound entries about the book, I left a comment or two, and she graciously sent me the book as a gift. <Thanks again, Amy!> You can read them here:
That was months ago. After reading it, it brought to mind another excellent book that reminds us that how we define success will define us. It was Kent Hughes' Liberating Your Ministry from the Success Syndrome.
I put two and two together, and bought a copy of both books for our church staff. We read them over the spring and early summer together and then had a wonderful staff retreat in which we committed to not pursue success but to simply and humbly continue to pursue God's glory.
Amy probably never knew how much her insights from the book would impact a church staff in Blacksburg, Virginia. Blogging is like that. You throw something out there, and as Forest Gump says, "You never know what you're going to get." God is able to make all grace abound to us if we are honest, transparent and earnestly seeking His glory rather than our own.
I'm grateful for Phil Vischer. For vision. For "big ideas." I hope to have some someday. However, I'm more grateful for the constant check on my own aspirations to greatness. It's not about me or my desires for fame. (Yes, Amy, I'm right there with you.) It's about Him. His Name. His Fame. I'm Lame... without Him.
Here's hoping this is another random blog entry that might be used to provoke humility and patience in someone else...