Proof of prayer's effectiveness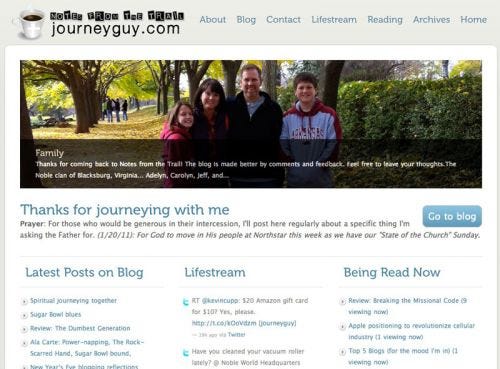 I worked on implementing the homepage feature of my blog's Wordpress theme this past week (It's SimpleFolio by Smashing Magazine). If you have been to the blog at journeyguy.com (many just read it in their RSS feeds or readers), you will have noticed a new feature under the main photos - a personal prayer request.
I know some who read my blog aren't Christ-followers, but I assume that most are. For those who are, I'm grateful for your intercession for me. I need every ounce of guidance from the Father that I can get. A few days ago (on January 17), as I was motivated to post my first prayer opportunity, I did so with expectation and experimentation.
I wondered whether I would sense or see the fruit of this request being made manifest in my life. I requested prayer for:
A clear mind for planning and acting this week (lots on the burner)
It's a big week for our church as we head into our annual State of the Church weekend. Since I'm easily distracted and am trying to stop multi-tasking so much (read this great article on the detriments of multitasking), I knew I needed help with focus and productivity. It wasn't so much that I wanted God's help with my to-do list as I wanted the Lord's tangible magnificence to hover over my mind as I worked this week. I craved an awareness of His preciousness and the eternality of my work for Him.
Today, as I reflected on that request and the reality of my week, I've found... joy. This post is no empirical proof for God. It's no convincing argument for the skeptic about a God who listens. It will not bring into undoubtable reality for the unimpressed the proclamation of Isaiah 64:4:
For since the world began, no ear has heard, and no eye has seen a God like you, who works for those who wait for him!
However, for this little life, I know that God has responded to my desires in the prayers of His people. With just a moment's reflection on the past few days, there has been deep clarity of thought, productivity and accomplishment for His kingdom. He has stepped in and filled my fingers and feet with progess. But it's not just been a checked-off list... it's been the constant, joyful and worshipful awareness of Him and His pleasure as I've worked.
Some of the tools that He's used to continue directing my thoughts this week:
You'll just have to trust me. Your prayers have been effective as God has graciously responded to them. Thank you. Thank Him. And keep praying for me, those around you and His glory... pray in confidence that the Lord is acting.
Finally,if you would like to give me an opportunity to share in God's work in your life by prayer, use the contact form on the site to describe your need, and I'll be honored to pray for you - whether you currently believe in prayer's effectiveness or not. Ask yourself, "What can it hurt?" I'm here to promise you that He listens.
Moreover, as for me, far be it from me that I should sin against the LORD by ceasing to pray for you, and I will instruct you in the good and the right way. Only fear the LORD and serve him faithfully with all your heart. For consider what great things he has done for you. (1 Sam 12.23-24)