Rabbit coats
It all started last week when my cousin created a Facebook event page for his mom's (my aunt Imie) 80th birthday celebration. The big shindig happened this past Sunday in Hamburg, Arkansas, at the Ashley County Museum. It was one of those special moments that stirred great memories. Here's what I wrote in the Facebook group:
Happy 80th Birthday, Imie!

The memories shine brighter than your plethora of pink possessions. I won't be able to make it Sunday, but here's a few memories that I cherish and thank you for:

The candy closet in your back bedroom

Constant hospitality and always a moment

I don't think you ever called me just "Jeff" - it's always been a random assortment of "JG, Jeffrey Gayle, JGN" or simply, "my favorite relative ever."

Robert Allen and I working at the skating rink. You never seemed to mind a few missing quarters out of the register that we plugged into the pinball machine.

Working the concession stand at the drive-in and eating chili dogs in Bert's Cadillac after it closed while watching the movie

Swimming in the pool

Summer 1988. I was the summer youth minister at First Baptist Crossett and totaled my car. You let me drive your pink Cadillac there and back several times while I was getting a replacement car. It made quite an impression on the youth!

Coconut cakes. You and Opal are master bakers!

Driving to Monticello for my book signing last January. It meant so much!

I could literally go on and on. Happy Birthday to a dear loved one who ensured that my life has been full of love, support, family and pink. I love you and hope you have a wonderful day!
Imogene Noble Carpenter is not a resident of Hamburg. She's a living legend. Her special idiosyncrasies are known far and wide. Her infatuation with the color pink is probably the most renowned (pink appliances, pink Cadillac - before Mary Kay popularized it, pink Ford Mustang convertible, pink swimming pool slide, etc.).
I've written before of Hamburg's special place in my life as a kid growing up (here and here). However, the growing list of well-wishers on Imie's Facebook page included one comment that brought a painful memory to mind. My cousin Rob and I were given matching rabbit coats when we were about two. Now, to be fair, we were much too young to realize that little dudes didn't wear rabbit coats, but that still doesn't explain why Rob wore his, well, to his high school prom.. (JUST kidding, Rob)
At any rate, I left a snide comment on the post about how I didn't have one (being in full denial). Then my mom helpfully began text bombing me an hour later with these jewels: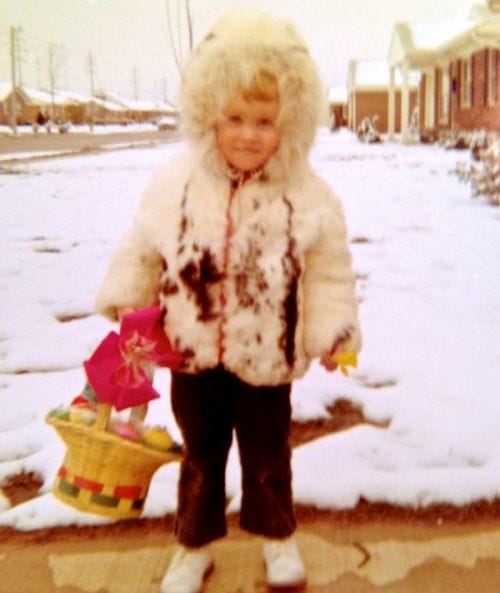 And just in case I accused her of Photoshopping that animal onto my little self, she sent me these: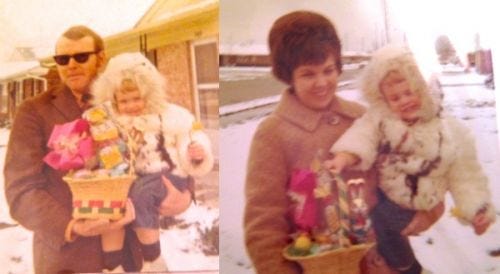 Yep. Me in a rabbit coat. And I even look hoppy happy about it.
Before you guys wonder how in the world I could have allowed that to happen, and if it's affected me negatively in any way, let me show you a couple of others she sent me: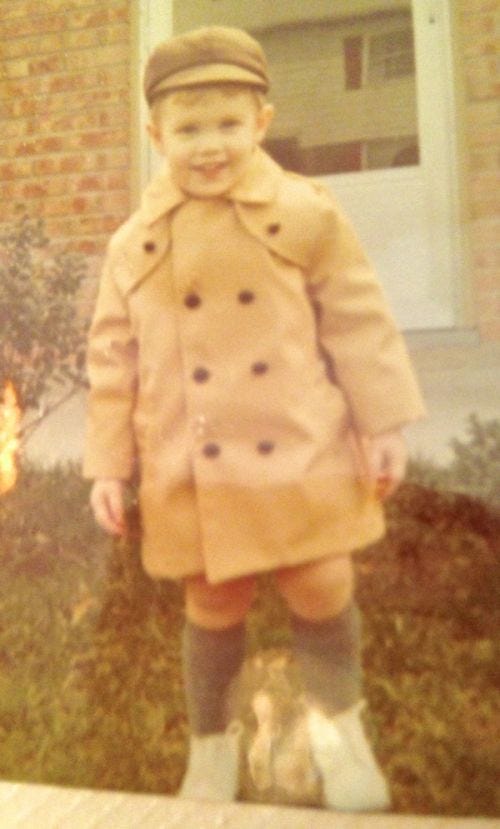 Yep. That's right. Me in a studly James Bond-ish trench coat. With tube socks. Only a young man confident in his masculinity can pull that off. In fact, as you can tell from the next picture, I rocked that trenchie. This is me telling all the two year-old babes out there "Watch out, Richie Cunningham, there's a new Fonz in town."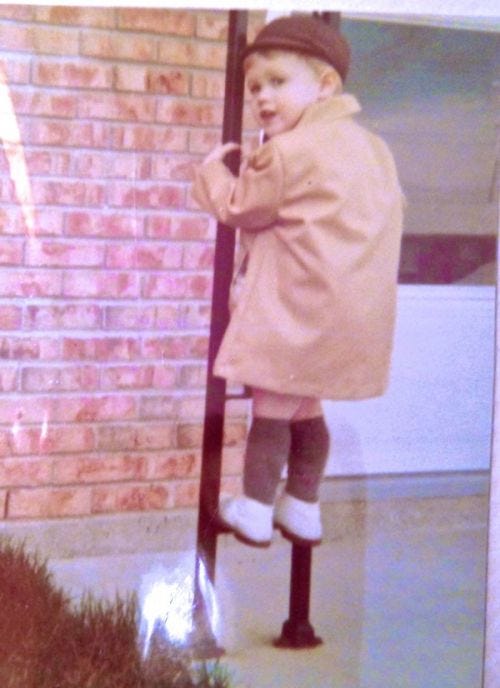 Carolyn often asks me to pleeeease do the "trench coat pose" when we're taking family pictures. It's something that I've been kinda known for over the years. It's pretty difficult to cling to the porch rail support and look rakishly over your shoulder while flexing your calf muscles so that they show through your tube socks. But I can still nail that look.
Weird, the places that memory lane takes you.
Say "Happy Birthday to Imie"
And even though you may have missed her 80th this past Sunday, if you know and would love to wish Imie a happy birthday to Imie, stop by the Facebook group and leave a comment.