Of radio, painting and snowmen
We've been in Alaska since last Thursday night, and it's amazing what we've been able to cram into a week, thanks to the ever-tireless efforts and prodding of a pregnant Kristy. She's got more energy than we do! You should have seen her sledding down Hatchers Pass. (Just kidding, Ginger!)
Yesterday, I went to work with Mike. When they sensed God working in their lives back in 2007 in a unique way and identified Alaska as the place God was putting on their heart, they immediately began researching ways to do kingdom ministry here. One of the opportunities they discovered was Voice for Christ Radio Ministries.
At work yesterday, I gained more perspective and was able to even grasp the strategic vision and value of such a ministry. It reaches into the remotest parts of Alaska - where there is no other radio options. We 48ers (what Alaskans call those south of them) can't imagine just having static on every part of the dial.
Karl and Kristen are staffers for VoC (whereas Mike is a volunteer at present). Karl related that in one village that he flew into, one of the residents was confused about "radio." He identified radio as something you talk back and forth on, like ham radio, or a CB. When Karl finally explained to him what VoC was and that they could pick it up on a radio, they exclaimed, "You mean, the thing on the alarm clock??" in incredulity.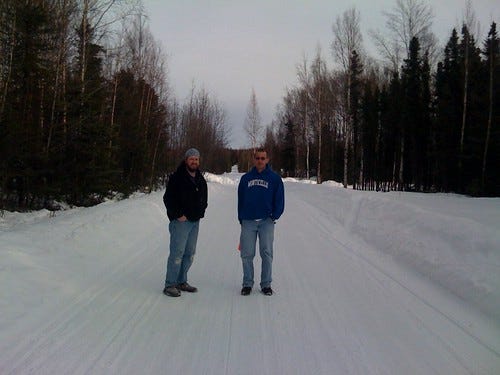 The broadcast of the Gospel in messages and music to areas without a church or vocal Christian witness is an incredible endeavor and undertaking. I'm really proud to have met folks like Karl and Kristen who have sacrificed so much to serve Christ in this way. I'm also thrilled to know personally Mike and Kristy who are still searching and praying about ways they can serve the Lord in this place.
After a tour of the station and getting to listen to Madman Mike (I am coining that as his DJ name) record a weather report, he and I headed over to Karl's house to paint. These selfless missionaries raise their own support to turn around and work long hours broadcasting the Gospel. Karl is also the primary engineer and technical guy. He's flown into some of the remotest places of Alaska to set up FM transmitters so that villages can have a Christian witness. And they've built their own house next to the station outside of Wasilla!
They have turned their basement into a series of bedrooms.Their vision is that they can be used for guests who come up to help at the station. So we gladly went to paint. Mike and I knocked out the last coat in the entire area in about 3 hours. The families brought us lunch, and Sam got to drive a snow machine.
After lunch, we returned to the Hales, and Caro took the Hales Family Photos. Afterwards, Caro and Kristy headed out for a baby shower for Kristy, and the the hubbies and kids built two huge snowmen in the front yard. It took everything Mike, Sam, and I had to lift the second snowball onto the first one. With temperatures warming up into the 30s yesterday, the melting snow had produced perfect sticking power for snowmen and snowballs.
When the women returned, we sat up late laughing at each other and making fun of Carolyn since she missed American Idol. Mike made up for it by reading the synopsis of AI from the BooMama blog (one of Kristy's favs - aaaah! It's contagious!). He was remarkably masculine as he read descriptors like "fab" and "thankyouverymuch."
Radio, painting, and snowmen... A great day.