Rectal 2009
This was my fourth year to film Kim's Dance Factory's annual recital. I began doing it as part of my business, Noble Design, and it's grown into an annual ordeal. While I have since backed off doing the elaborate editing with two video cameras, it still involves videoing three 2-hour recitals and then editing the footage down to produce three DVDs.
The Lord has continued to use this income from the sale of the DVDs to help us catch up from the incredibly slow months of December-February that Carolyn's photography business usually sees. So while I may dread 12+ hours of setup, video and tear down (and then the week-long editing process), the expression "don't look a gift horse in the mouth" certainly applies. It's all good, in other words.
Over the past four years, I've developed an ongoing camaraderie with Kim's husband, her dad and Danny that all run the sound and lighting in the booth in the auditorium. Three years ago, we began using headsets which allowed us to communicate with Boss backstage (aka, Kim). More importantly, however, these headsets allowed us to make comments and snide remarks to one another as only guys can do as we endured enjoyed the prolonged drama and grace of dance recitals.
There have always been some great one-liners and funny moments, but they were usually of our own wit. This year, however, a set malfunction reduced five men in the sound booth to a quivering mass of schoolgirl giggling.
I was innocently (truly) filming midway through Friday night's recital when Steve came walking into the alcove where I have my camera set up. He was grinning like a Chesire Cat and about to burst with revelation. Karl and I looked at each other, and then at him with expectancy. This is going to be good, I thought.
"Look at the wall," he said, breathlessly. When Steve gets struck by something funny, he has this falsetto giggle that could put a soprano to shame. He was obviously holding it back.
I glanced down on stage in expectancy but missed whatever he was referring to.
"Look at the words..." he said.
Then I saw it.
The "I" had fallen out of the word "RECITAL 2009" that was taped on the wall to the right of the stage.
It now read "REC TAL 2009."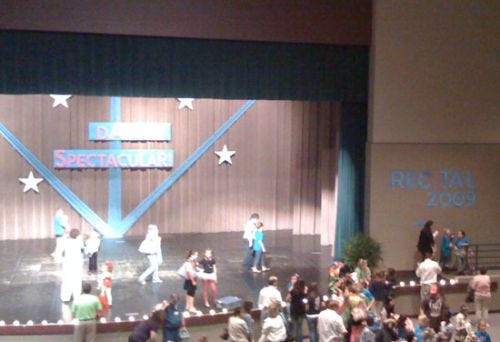 Enter school girl giggling. And stomping of feet.
I deserve a medal. I was able to continue filming the dance without interruption. Yes, I am a... hero.I selflessly kept filming rather than enjoying the belly laughs and guffawing of my comrades.
Whew. It was one of the best dance rectal moments of my life.
Afterwards, I quickly made my way down to the stage where Kim was visiting with girls and mommas. I snapped a few shots of the endearing slogan just for posterity. When Kim finally learned what had happened, she shot the messenger. Yep. Just because I was the one who told her (and Twittered and Facebooked the event), she held me responsible.
She exclaimed, "It's all because of your stupid tape!"
I really had no idea what she meant. I thought she was referring to my need for a video tape change 90 minutes into the performance. I guess she thought that delay was what caused us to notice the butt wall.
It was on the way to Ray's (local hamburger joint) that Caro pointed out to me - incredulous that I didn't get it - what she meant.
I had stopped on the way to the recital and bought some cheap, no-name duck tape that barely held down my cords on the carpet. Kim had borrowed my tape to put those letters on the wall.... So it was my fault.
It was at that moment that the sheer joy of the night erupted all over me. Not only was I hero. But I had unintentionally caused the event to turn anal. Wow. How cool can I be?