Red socks
This Thanksgiving has been a little surreal. My family and I are separated. It wasn't because of something I did, fortunately. I flew out early to visit my mom and dad in Little Rock, and Carolyn and the kids planned to drive out Tuesday. Winter weather had other plans. So I'm in Arkansas, having a big, old time with the parents which has included movies, food, shopping and seeing friends. The fam is still in Blacksburg.
Today I had lunch with two college friends, Mitch Bettis and Scott Spakes. We laughed our way through catching up on families, kids, hair loss, book sales, job changes, adoption and the like. It was toward the end of the conversation that Mitch crossed his legs in the chair next to me, and I noticed... red socks. Not just any red socks, but bright, elf-like colored red socks.
I commented on them. (that's putting it mildly)
That was when he proudly pulled up his pants to show that they weren't just cheap ankle-length, bright elf-life red socks. They were amazing, calf-length, and now epic, Nutcracker male-ballet type red socks.
Scott and I were both stunned with his audacity. Mitch was undisturbed by our laughter and simply explained that because he is color blind, he had finally hit his tolerance threshold this year with asking Meg if his socks matched before he left the house. He decided the simplest thing to do was dump all his socks and buy new ones. He had looked for yellow but finally ended up with dozens of pairs of these bright red socks. Fashion be damned (or perhaps be-gan). Now, no matter what he wears, one decision is made for him. Red socks.
Carolyn uses two words to describe me often: cantankerous and crotchety. I explained to Mitch that his choice of socks epitomizes those words, but when a guy moves past 40, he has a right to wear red socks if he wants.
In spite of our chuckling, I think Scott and I both left lunch today pondering the sheer brilliance of Mitch's decision. No more choices about socks matching for him. Scott and I both are still in the world of matching socks - both with our pants and after they come of the dryer. Mitch has entered a world of sublime freedom.
I am sure Meg continues to be amazed at her husband's rare gift for moves like this.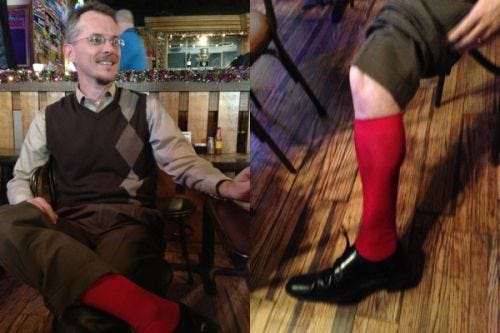 Two things could happen from here:
I could buy a load of green socks of the same brand and ask Meg to put them in his drawers. Since Mitch is red-green color blind, he would never know. But everyone else would..

The Bettis family can also use Mitch's everyday apparel to hang from their mantle for Christmas.
Mitch, my friend, thanks for being a fashion trail blazer for the rest of us. You'll be easy to follow.
Related posts: