Reflections on 2020: the year we all went viral
I remember the first few heady weeks of 2020. I was preparing for a message/presentation for our annual State of the Church Sunday that, of course, included the cheesy "2020 Vision" that most other pastors also embraced like a juicy steak. Casting vision in such a precipitously-named year was the thing to do. It was especially significant for our church since construction on our first church building had just begun in late 2019.
I was still walking through some personal heartache that had involved cancer, leadership issues and relationships, and I found myself still encountering relational and emotional cobwebs every I turned.
As I stood and shared on January 28, 2020 with my church family, none of us had any idea how relevant and pertinent the passage I preached from would be for the rest of the year. In it, I stated, "Our 2020 vision as a church is to grow deeper in spiritual maturity by embracing ministry instead of activity." Little did I know how soon the ministry "activity" would screech to a halt.
In March, the iron curtain fell in Virginia, and our state went under a governor-imposed lockdown that would supposedly keep us safe and alleviate overcrowding in hospitals. Nine months is long enough to make a human, but it's not long enough apparently to emerge from the fear cocoon that this virus has wrapped many regions of our world and states in.
Due to ongoing pandemic restrictions and canceled venues, my son and his fiancee elected to move up their wedding, and in April they had a beautiful backyard ceremony in North Carolina that I was blessed to officiate and celebrate with them. It was the first wedding reception car parade I've ever experienced. It was actually pretty moving (see what I did there?) to watch their friends in banner-bedecked cars drive through the circle driveway, visit briefly, and drop off wedding gifts.
Our church began live-streaming with the rest of Christendom. I'm still in awe and so deeply grateful for our volunteers and tech-savvy leaders who ensured we didn't miss a single Sunday from the onset of lockdowns and helped us transition seamlessly to a new world of video production to ensure that in uncertain days our church could still "gather" and broadcast the wonderful message of a certain Savior who holds our days in His loving hands.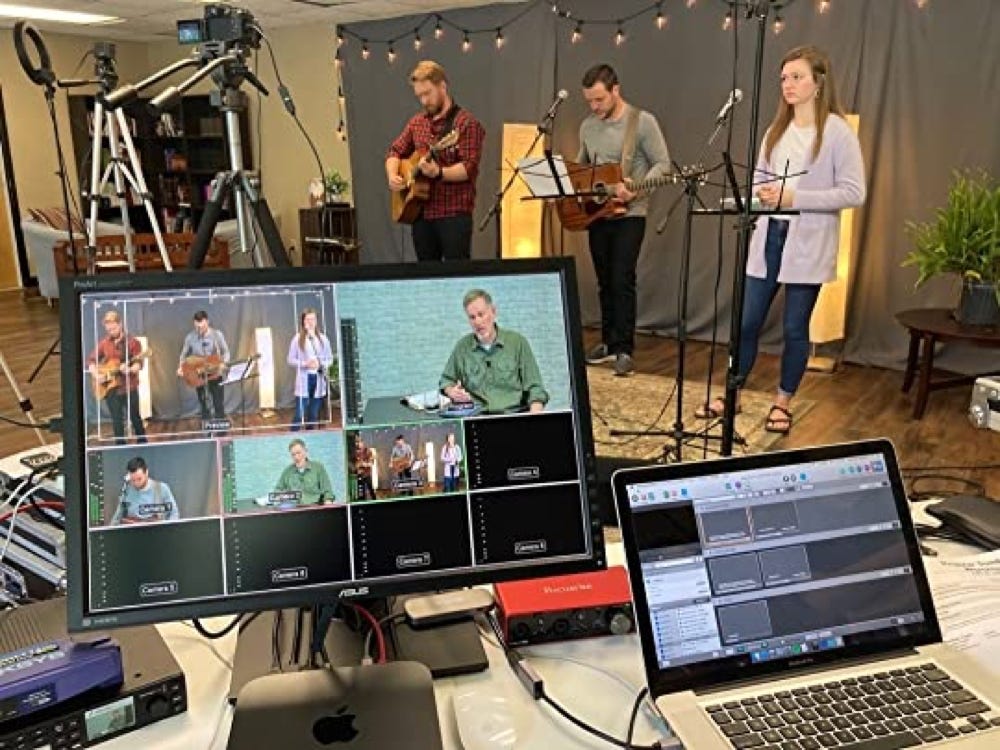 It was the people of that special church who watched girders rise from dirt in the early days of the pandemic, saw concrete poured, and continued to give sacrificially so that our first church "home" could continue construction in strange days. We were all confident that our community and world would continue to need a place to gather in the future to worship, encourage, be instructed and grow in our faith and love for Jesus. It's humbling to see the days of construction nearing completion with an anticipated move-in date of early February.
In June, I stepped away.
For the first time in over 30 years of full-time ministry, I stopped. I'm took a sabbatical. Since I was a college student, I've worked and served in local churches. I went to seminary and graduated in 1991. I never looked back, loving and rejoicing and discipling and serving the body of Christ with hopeful humility and determined joy. Churches and campus ministries in Dallas, southeast Arkansas, and Blacksburg, Virginia have been recipients and blessers of me and and my family. When I became the pastor of Northstar, I helped create a sabbatical policy that encouraged time off every seven years. As of June, it had been 11, and I'd not taken a sabbatical. It was past time, and I walked out of the office, thankful for a warm, unified and gifted staff and leadership team, and spent the next 10 weeks away. I learned (and continue to learn) so much. You can read more on life lessons here, but home projects and a new book writing project occupied most of that time.
Reentry was harder than I conceived. Some relationships felt "off" or different upon my return. I was uncertain of my footing for a few weeks. The staff was tired. They hadn't had rest AND they had been serving during some difficult days of pandemic restrictions, decision-making and even cultural turmoil related to issues of racism and political division. I wore more than one mask in those days. The cloth one was put on as needed, but another one emerged that helped hide my uncertainty about whether I even wanted to lead again in such a time.
The last few months have seemed a blur. I settled back into leadership and have been truly grateful for 2020 in many ways. Our church has shrunk and grown. We've not seen many of our members since March. It's been sobering for most pastors this fall to oversee multiple churches in one church – those who won't return until the pandemic is "over," those who are ready for life as "usual," and those who are somewhere in-between. I've been grateful that God has graciously added to our church even in these strange days as new members have replaced those who have moved or communicated they're not coming back.
This fall, during another spurt of creativity, I started a podcast. Why not?
As December arrived, I rejoiced in Christmas. This year, more than any other since I've walked the planet, I was significantly aware of my/our DESPERATE NEED FOR A SAVIOR. I exulted in the lights and music and quiet hopefulness that Christmas season instilled. Our church walked through three Songs of Advent together to anchor our souls in the reality that Jesus has come to save us.
Soon after 2020 tried to throw a wrench at us with a contested election, we were blessed with a new future son-in-law. He proposed to our youngest at the Virginia Tech Inn on December 19. We'd had a full house for Thanksgiving with new family from North Carolina, and we rejoiced in new relationships and another future family in December as the newly engaged couple came back to find their friends and family ready to celebrate with them that evening at our home.
Goodbye, 2020
365 days. Another year. A momentous one. It's made more so because we all experienced it TOGETHER. No matter your perspective on the pandemic and its restrictions, cultural issues, politics, or conspiracy theories, 2020 will forever be etched in mental glass as a collective year. Even amidst such division, we've experienced it together.
It's in these strange epochs that we must remember our Creator and rejoice in our frailty. Years such as 2020 are gifts because they remind of us our helpless humanness. I'm reminded of scripture that seems to sum up our joint life parantheses called "2020" succinctly.
"Has God forgotten to be gracious? Has he in anger withheld his compassion?" … I will remember the LORD's works; yes, I will remember your ancient wonders. I will reflect on all you have done and meditate on your actions. God, your way is holy. What god is great like God? You are the God who works wonders." (Psalm 77:9, 11-12)
I am grateful that this wonder-working God sent a Savior! I hope that His kindness provokes you to embrace an intimate love relationship with Jesus that will carry you through this next year and the looming days ahead.