Reflections on Montenegro
I've been back in the States for a few days now from a trip to Montenegro with friends. Carolyn and I celebrated our 22nd wedding anniversary on Friday by eating (for the first time) at the famed Palisades Restaurant. It was amazing.
As we drove north into Giles County, Virginia, Carolyn was ooohing and aaahing over the lush mountainscapes. We began to talk about the difference in beauty and majesty in southwest Virginia and Montenegro. You might remember from this post the quote that Brit Boone of meanderbug.com fame shared with me:
God told the Montenegrins that they will get to live in the most beautiful place on earth… but that they also got all the leftover rocks.
After seeing it first-hand, it is no tongue-in-cheek comment. Montenegro is full of rocks. They are everywhere.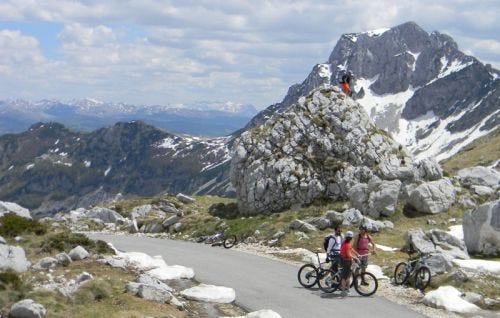 So the comparison is a little rocky... However, I finally settled in on a description that says Virginia's beauty is more "warm and lush" while Montenegro's is more "rugged and majestic." Both enjoy being crisscrossed with mountains, valleys and rivers, but Montenegro wins out in some of the extremes.
It has the second deepest canyon in the world, the Tara River canyon, which is the deepest river canyon in Europe.
Tara River Canyon Bridge
Our whirlwind nine-day trip included mountain biking in the Durmitor National Park (18 miles! Check out my post about the experience on meanderbug), hiking near Skadar Lake, another hike outside of the historic Montenegrin town of Cetinje and stand-up paddle boarding in the Bay of Kotor.
It wasn't just the countryside that continually overwhelmed us. The people of Montenegro demonstrated warm hospitality and kindness to us in every place we visited. We were humbled as westerners by the graciousness of our hosts and hostesses which included a beautiful lodge in the North (see my post aboutEtno Selo Sljeme) to the well-appointed and comfortable Old Town Kotor Hostel on the coast.
Our team will be contributing posts to meanderbug.com in the coming days about our experiences in the country - from adventure, to dining, to accommodations. if you are looking for a vacation with a purpose, a getaway for your group or a destination for adventure, look no further than Montenegro.