Reflections on Senegal
I had no idea I'd go to Africa this year. In fact, I had communicated to people over the years that I didn't feel "called" to Africa, that I felt more affinity with western and Eastern Europe. I've walked streets in Poland, China (and a big wall), Dominican Republic, Canada, Spain, Montenegro, Slovenia and Turkey. The last two summers, I drank in the history and witnessed the bustle of Istanbul. It was in places like these that I felt most "comfortable" and "called."
In fact, if you'd asked me in January, I would have thought I'd be back in Istanbul this year. That was the line I was walking, the path I was on. When you're on that line, it's hard to imagine stepping off. Everything makes sense, and you can see what's ahead.
Funny how God redirects.
Prompted
This year, I was prompted to consider Senegal (blog here). A friend in our church is getting his Ph.D. at Virginia Tech, and over the past few years has suggested along the way that I visit his home in Senegal. I always nodded politely and said, I'd love to, that would be nice. You know how it goes.. platitudes. I wasn't reflective and didn't pause to give it real consideration. I thought it was one of those "be nice to the pastor" moments. However, I began to pray weekly for his dad who was a minister there.
For some reason it lodged in my heart in late spring. And yet I waffled. Then there was a lunch with a Northstar member who was back in Blacksburg but would be returning to serve on Mercy Ship's, the Africa Queen. Guess where the ship would be this fall? Senegal.
It was my last needed nudge. I knew God was up to something. It was time to allow an intersection on my line. I booked my tickets over the summer. I had no idea what my purpose was - I just knew God was up to something. So I intended to go and experience, explore and examine. I committed to live sensitively. I wanted to listen and look for what God was doing and how my life and church might possibly be invited to intersect with Senegal.
10 days later, I'm on returning to the U.S. on a flight over the Atlantic. My heart is filled with gratitude,and my head is filled with wonder. And mainly I'm supremely grateful. If I could, I'd bust out in praise in the plane, but I'd wake my snoozing cabin mates. Here are some lessons learned.
Who needs saving?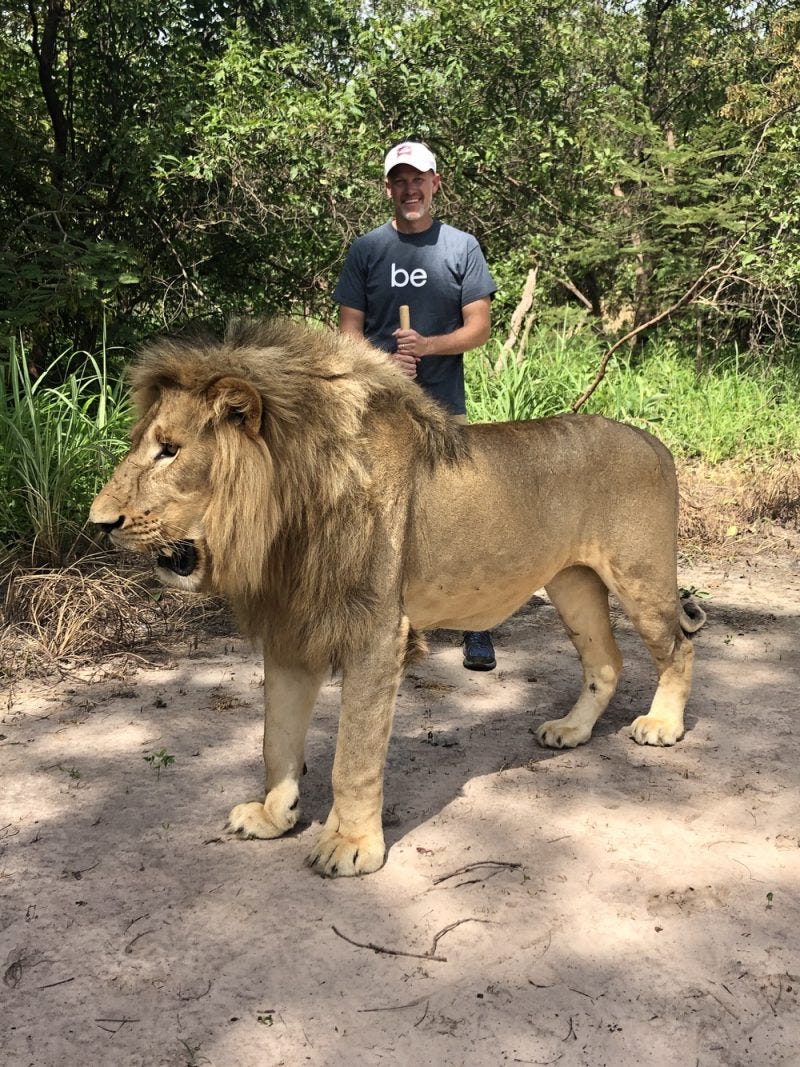 From Dakar to Saint Louis to Richard Toll to Karlact to the Fatalah Nature Reserve, I covered Senegal in days. I was a few miles from Mauritania and Gambia. I met so many people, so many workers, preached in a Senegalese church, toured the Africa Queen, visited Goree Islandand walked with lions. (I'm not lion! Blog post to come soon.)
Everywhere I went, I was the only "white guy," with few exceptions. And yet I was not self conscious, because I was so warmly welcomed and hosted. This culture that is steeped in Islam, its people - treated me as an honored guest and smiled and waved and wanted to talk. From waitresses to cops to the fruit stand ladies, it's true that Senegal is known for its hospitality.
We need saving.
Through it all, I saw deep spiritual lostness. Senegal is another country caught in the grips of a religion that teaches and advocates ritual over intimacy, legalism over grace. And yet, it is not the country that needs "saving."
It's people - including me, that needs saving.
In the dusty and littered places of Senegal, I realized afresh that I need saving from the idea that I'm "taking God" anywhere. I learned this lesson years ago, but this experience rebranded me. God is the author of life and creator of people, no matter what land they live in. He loves all people and desires them to know Him. Where people are, there God wants to be in their midst.
I need saving from any idea that I have anything to offer other than the love of Jesus Christ. The day I think that my oratory, my words, my lame dad jokes. my Mac, my fantasy football - anything that I love or that makes me unique - is what people need, is the day I am deluded.
People need intimacy with God through a faith relationship with Jesus.
The challenge is to present that spiritual reality to a people whose history and culture and now religion reject Jesus as God.
I stood in a village where a young Christian couple have moved to reopen a school. They want to tell the village about Jesus, but the region is hostile to any god but their Allah. You can't just go stand on the street corner and begin preaching, not if you want to have a lengthy ministry (or life). You don't worry about websites when you don't have running water. No need to invite friends to church when no church exists. When I considered all that they have left to reach others for Jesus, I was reminded of Jesus' response to Peter who asked about sacrifice:
"Everyone who has left houses or brothers or sisters or father or mother or children or fields because of my name will receive a hundred times more and will inherit eternal life. But many who are first will be last, and the last first." (Matthew 19:29)
Some of the people I met in Senegal will be those who receive great reward.
I have also been sobered by Jesus' words in verse 30 - "But many who are first will be last, and the last first." I wonder if that is some of us in the church in the West? So much to pray and think about.
This is where Jesus is real.
He must first be real - very, very real - to YOU. Only your confidence in the reality of the Son of God can sustain you in days when the only gospel presentation you're able to make is smiling to a neighbor, of refusing to steal a door when it's left open - because Jesus followers don't steal doors. (Yes, this happens). A door is better than a piece of sheet metal. In a religion whose ethical teaching doesn't penetrate the heart, you have to leak Jesus through love over a cup of baobob juice or tea and demonstrate the ethics of Jesus in everyday life.
Jesus is real even beyond your confidence in Him. One afternoon as I stood in the northern Senegal sun slowly baking, I wondered how in the world a God-movement could start in such a place? How confident was I that God could reach these people? I began to face the uncomfortable inner truth. Not very.
And yet in those moments, bumping over dusty roads marveling at the donkey and goat population, shrieking for joy when I saw animals I'd never seen except in National Geographic.. in those moments, I worshipped. There are Senegalese Jesus followers there, or I wouldn't have been there! God is moving.
Prayer
I think it really began when I began to pray for my friend's dad weekly. Prayer softened my heart and made me open. And in those moments of weekly prayer, a work of God germinated in my mind that led me from intercession to interest to involvement.
And I'm so grateful for God's kind cords. He drew me in slowly, gently, and now a part is tied to Senegal. I have my hand up 🙋🏼‍♂️, saying here am I, Lord, send/use and mold me. I will go, and I will be a mobilizer of others to go to their own Senegal's.
Where is your Senegal?
Or who is your Senegal? What I mean is, what is God prompting you to do that may seem... crazy or too far or too much.. for Him? What is it that you have too easily dismissed as "surely God wouldn't ask me to ________?"
Here's the thing. If you will make living for God's glory the joyful, grateful priority of your heart, one day you'll be walking a line, and then unexpectedly the next... you'll be walking with lions.
When we were at Fathalah Nature Reserve preparing to walk with lions, I kept reminding myself that if something went wrong, I just had to be the second slowest person there. They told us that one of the female lions had just had two cubs days ago, they hadn't been named, and so I glibly tried to talk the lion guide into naming the boy cub "Jeff." How awesome would it be to have a lion named after you?! Then someone more spiritual than I said I should have suggested Aslan. Now that would have been awesome!
But the greatest name is simply Jesus. His is the name above all names. Jesus is better than Aslan. He is the Lion of Judah.
I hope you walk with Him today, and that you allow Him to redirect your life lines, whether it's across the street or across the big pond. You won't regret it.