Review: A Praying Life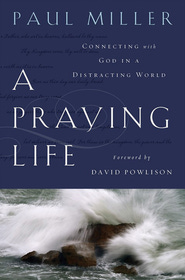 When I pray over a problem, that problem begins to sparkle with the energy of God. Strange things happen.
I did not just read the book. I chewed and meditated my way through A Praying Life by Paul Miller. Unlike other books on prayer that I've read that seem to elevate prayer as something you should do or must do, Miller's book describes prayer differently. It's not a spiritual discipline to achieve or maintain.
Making "prayer" a goal such as "I need to pray more" misses the mark. Miller says our goal should not be prayer. Rather, our goal is knowing and loving God in a progressively deeper and intimate way. Focusing on prayer misses the person.
In A Praying Life, I found again the sheer joy of living life in dependence upon God. An absence of prayer reveals relational distance. To be told to pray more is like telling a married couple that they should have an occasional conversation. Prayer is not the goal. Intimacy is.
Miller demonstrates through dozens of personal anecdotes the simple joy of actually trusting God with our life through presenting our life, our needs, our thoughts and our dreams to Him in prayer. The entire book is a like a spiritual tide coming back in. We say we believe in the reality of God, but until we get our feet wet in prayer with Him, we cannot imagine the depth of life and joy possible by walking with Him in the waves.
Part 2 of the the book deals with the destructive power of cynicism. It hammered me. Our culture loves to be detached, critical observers of anything of significance. I challenge you to read this section disinterestedly. Miller prophetically indicts us in the church as falling to the spirit of this cynical age in regard to our praying lives.
Miller points out that Satan's temptation of Adam and Eve in the garden was essentially cynical. "Did God really tell you not to eat of the tree?... You won't die." He plants a seed of doubt in their minds, and the rest is tragic. Satan has since successfully led humanity to succumb to cynicism.
To be cynical is to be distant. While offering a false intimacy of "being in the know," cynicism actually destroys intimacy. It leads to a creeping bitterness that can deaden and even destroy the spirit. p79
I believe he's correct in observing that "there's a dark, self-serving agenda" that we embrace when we refuse to trust, to hope, to believe. Cynicism sets us up to judge other's motives and believes the worst. It is man's attempt to be God, to crown himself as king of his own domain and to proclaim that only he can accurately discern motives, situations and life events.
Cynics imagine they are disinterested observers on a quest for authenticity. They assume they are humble because they offer nothing. In fact, they feel deeply superior because they think they see through everything. p91
In short, you can't be cynical and also have a praying life. One will starve the other.
The rest of A Praying Life offers you a clear view of the love of God in Christ Jesus. When we love Him, we will walk with Him. Our walking will include delighted conversation with Him that ranges from joyful sharing to heart-wrenching cries for help. But prayer is not the focus. God is.
I deeply appreciate how Miller reveals that one can't pray deeply without repenting thoroughly. We have to be honest with God. Prayer is not an isolated form that we can fill out and email to God, thinking He doesn't know what we're really thinking. God will not allow prayer to be a quarter in a game machine. Prayer is our opportunity to know Him - and to even know ourselves.
As we draw closer in relationship to God, our prayers also become mirrors. They show us our selfishness, our small-mindedness. As we grow, our prayers also show us our submission and our spiritual growth.
Miller concludes with a section on practical prayer in which he shares a systemic way to engage the Lord in prayer that will also help you remember those you've promised to pray for. I wholeheartedly agree that we need to keep track of our conversations with the Lord. What relationship would be healthy if you always started talking about what you've already talked about? As you learn to record your conversations with the Lord, you'll be so excited to see just how responsive the Father is. You will also discover patterns in His activity that may help you understand and find peace in areas where previously you might have been tempted to say that God "didn't answer" your prayers.
A Book Switch
As I mentioned in my preview of the book here, I'm grateful that Katie urged me to read A Praying Life. She gave me permission to underline in her book, even though it had been a gift to her. After completing it, I asked her (as one of our interns) to transfer my underlines to the copy I bought for myself after realizing it was a book I wanted to own. She just gave me her book - with the gift note on the inside. So I took a picture of the note, printed it off, and taped it to the inside of the new book.
She wrote her own note under the other note:
Jeff - My gift to you. May it bring you closer to God's heart. Thanks for stealing my book. KT
And there you have it: A Praying Life - a book worth stealing...