Review: Brisingr (rated 5 stars)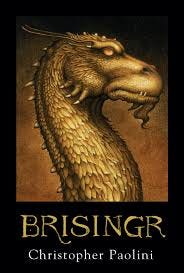 by Christopher Paolini
What a love/hate relationship I have when I near the end of a fantastic, epic book. As I finished the next-to-last chapter of Brisingr, it dawned on me like a flash that there was no way Christopher Paolini would be able to finish this tale in one more chapter.
I stole a look at the conclusion to see a fourth book is forthcoming. A wonderful stew of excitement and dismay began to brew. There's more! Young Paolini has shocked the literary world yet again. Having begun his Eragon story as a teenager, with this third book, he has ascended the ranks of epic fantasy tales with the like of Lewis and Tolkien.
If you're in the mood for a good story of elves, dwarves, dragons… courage, friendship and battle… look no further than this series. It does not disappoint!