Review: Christians Are Hate-Filled Hypocrites... and Other Lies You've Been Told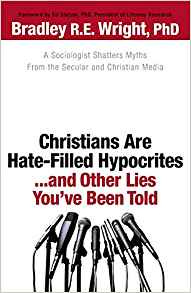 Christians Are Hate-Filled Hypocrites...and Other Lies You've Been Told: A Sociologist Shatters Myths From the Secular and Christian Media
by Bradley R.E. Wright
I was given an advanced reading copy of this book by Bethany House Publishers to read for a blog review. I wondered if the title was simply a sensational teaser to yet another book without much substance. I assure you; the book is worth reading and digesting! I can wholeheartedly recommend it — but especially for pastors, speakers and Christian leaders.
Through careful research and much re-interpretation of faulty explanations of existing research, sociologist Bradley Wright paints a new picture of Christianity in America that will be a great encouragement to believers. His work refutes much of the doomsday scenarios carelessly spouted out by Christian authors, pastors and speakers.
As an example, just the other day, a friend of mine tweeted:
Today, fewer than 20% of Americans attend church regularly and only 22% have a positive view of church. #Exponentialbook
This is a fantastic example. In reality, only about 40% of people have a negative opinion of evangelical Christians today. However, it all depends on how someone defines "evangelical" because that is the term used in most of the survey questions asked. For example, according to the 2008 Gallup Poll, less than 12% of the respondents had negative feelings toward Methodists, Jews, Baptists, or Catholics.
Wright points out that much of the research used to say that people have a faulty view of Christians is spurious and unreliable. In addition, Wright deals with topics ranging from the divorce rate in the church to whether the church losing its young people.
You'll be pleasantly surprised as I was to learn that good interpretation of these studies reveals that the church in America is in much better shape than we've been led to believe. The conclusion of the Wright's book urges us to think critically again and not to believe stats, polls and "research" — especially when our intuition tells us that this may not be accurate.
He points out that bad news sells. It sells newspapers, it boosts media ratings, and unfortunately, it also sells Christian books and helps advance speakers. Sensational statistics have been used to urge pastors and Christian leaders to buy books which advocate "solutions" when in actuality, the entire thesis seems to be one of promoting fear and worry.
Of particular concern to me were Wright's findings about some organizations that many Christian organizations depend upon for research (and quote often) — the Barna Research Group and Lifeway Research being two. I'd encourage you to check out Wright's blog and keep up with his material for another perspective.
In conclusion, I predict that 90% of people who read this entry will think twice about reading another statistic. Like I said, 90% of people who read this entry will think twice about reading another statistic.