Review: Groups app for iPhone
I used to write reviews for iPhone apps for the website appropriately titled appleiphoneapps.com (now appadvice.com). It's a fantastic site to keep up with the good and terrible of apps for the iPhone. For every $.99 jewel, there are about 50 bombs. It's always good to read reviews before hastily purchasing - unless you just love throwing dollar bills in the digital gutter.
I stumbled across someone's recommendation of the app called Groups: Drag and Drop Contact Management a while back, and after doing some research, I pulled the trigger. Even though it's a bit pricey at $2.99, I've found it to be a stellar addition to my iPhone.
If you don't use the Address Book on your Mac all that much - and especially if you don't use the Groups feature of AB, it won't be that appealing. But perhaps it will inspire you to organize that messy contacts database you have.
Groups allows you to add contacts to specific groups by dragging and dropping them on the iPhone. This is a feature that Apple did not build into its Contacts app. You can also create Groups with the Groups app. There are are host of other inspired features as well - such as being able to email an entire group.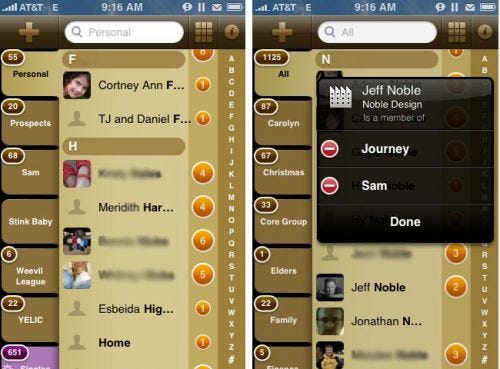 In addition to working with groups, the app also has a beautiful graphical interface. It's really a pleasure to use. You'll discover new features consistently that are well thought-out. For instance, a number will appear beside the name of your contact, indicating how many groups that contact is in. By tapping the number, an interface is brought up which allows you to edit the groups that contact is currently in.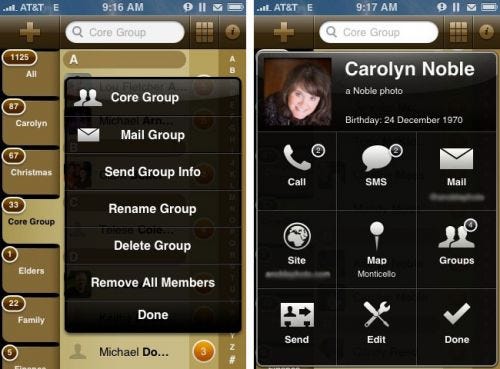 Also, the ability to interact with individual contacts in your database is extremely well-done. Simply tap on a contact, and a dialog interface opens up that allows you to:
Call any of the numbers assigned to that contact

Send a text message

Email

Go to that contact's website

Map that contacts address

Identify the groups that contact is in

Send a contact card (in .vcf format) of that contact

Edit the contact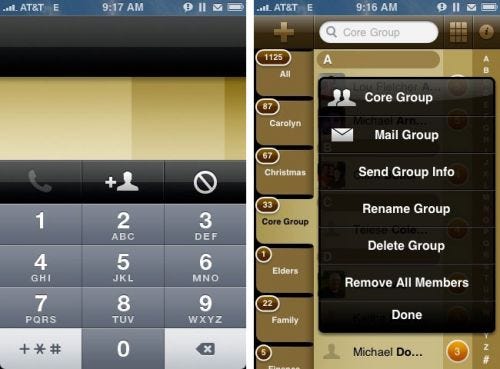 There is also an attractive dial pad integrated into the app. The app really could become a replacement for Apple's stock Contacts and Phone apps. It's that impressive. The ability to scroll down the group list on the left by dragging your finger down the list is also very impressive.
Cons
The only significant caveat to this app is its load time. It takes too long to load. That in itself isn't a deal killer, but it's lengthy enough that you could be in the Phone app and Contacts app of the iPhone by the time it loads. That prevents me from replacing the former two apps with this one.
Of course, with the release of the iPhone 3G S, processor speeds are significantly increased, and this problem may go away. For the rest of us with 1G and 3G iPhones, however, this precludes us from using this app for anything other than groups and contact management.
Overall
If you have an extensive contact database, this is a must-have app. It's smooth appearance and graphic design are excellent. Even though it tops out at $2.99, don't let this discourage you. In addition, if you have a lot of contacts, this app will help you beat that database into great, manageable shape.