Review: Sticky Teams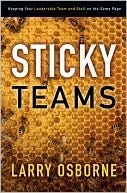 Larry Osborne is pastor of North Coast Church, a megachurch, by anyone's definition. I read his book Sticky Church some time back, and when someone sent me Sticky Teams as a result of seeing it on my Amazon Wishlist, I was grateful.
Loved that it was concise, to the point and not wordy. It was also very short on scriptural references. Osborne does use scripture and biblical situations, but he mainly speaks from his earned experience as a leader of a large church for the past 20+ years. I wanted to include that observation for those you who might get distracted by the paucity of verse references in the book.
He deals with essential, practical issues of church leadership that will effect unity if you don't have a plan. Things like budgeting, letting go of a loved, but ineffective staff person, how to clarify roles among staff and other boards, and whether or not your church is developing leaders for the future.
It would be well worth the time to buy copies of this book for your staff and primary leadership teams and then have 2-3 meetings discussing through the short questions provided in the back.
One helpful thought is simply how to share vision/information/plans with your teams or congregations. Typically, a leader will have dreamed and thought about a needed change for quite a while before presenting it. However, when it comes time for presentation, it meets with initial resistance that can perturb an unwise leader.
Norman points out, "When information is presented to close to a decision-making process, most people will view it as a lobbying effort, not as a training exercise." In other words, give your people permission to think and make the change journey with you. Don't spring stuff on them. He includes two chapters on introducing change that will be extremely helpful for you.
Intensely practical, and if even a portion of the book is implemented in your leadership structure, I know you'll be further toward having a unified and healthy team than you are now.