Review: Tea with Hezbollah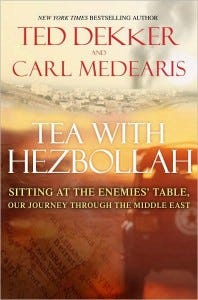 Tea with Hezbollah: Sitting Down with Our "Enemies" and Seeking the Good Samaritan
by Ted Dekker
In a world that denounces terrorism and too often uses incendiary language of condemnation to describe one another, it's rare to find voices of core values. Ted Dekker and Carl Medearis recount a breath-taking journey into the Middle East in 2009 to sit down with Muslims and "radical extremists" to ask them one simple question: What do you think of Jesus' command to love our enemies?
I've been a fan of Dekker for a long time as the creative genius behind the fictional Circle Series. I was anxious to read Tea with Hezbollah because of that and due to the insanity of the project itself.
As I turned each unbelievable page, I found myself immersed in the peoples of the Arab world and their responses to the question. Dekker and co-author Medearis sit down to share conversation with Muslim and "terrorists" in Egypt, Saudi Arabia, Lebanon, Palestine, Jordan and Syria. It was no cake walk.
The true-life tale spins out like a Hollywood thriller, albeit with decidedly anti-climactic conversations. Rather than try to interpret each interview and its political or religious influences, the authors simply give you the transcripts and leave the conclusion-drawing to the reader.
I'll admit I struggled with the responses of those interviewed, but I was also confronted with my own Americanized Christianity. Time and again, the authors relate that they were in search for the Good Samaritan in the Middle East. Was there anyone still in that war-torn but faith-saturated region of the world that could love their enemy?
Interspersed with the interviews is a powerful story of one young girl's search for family and connection in Lebanon. It has a happy ending, and it is an amazing complement to the overall message of the book.
If you struggle with seeing Muslims as your neighbor and extending them the same love of Jesus Christ that was and is today extended to you, then this book may be the beginning of a paradigm shift for you in attitude and faith.
This book was provided for review by the WaterBrook Multnomah Publishing Group and can be purchased here.