Settling into Blacksburg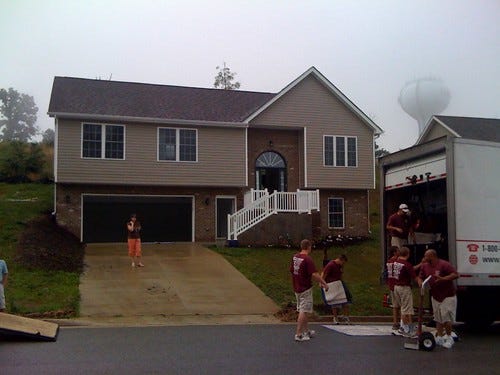 We're baaaaack.
We arrived in Blacksburg last Friday, and it's been a whirl of activity, unpacking, fellowship and wrong turns since then. The latter I mean literally. I had trouble figuring out which block the post office was on.
A couple of observations about Blacksburg:
My scooter just increased in value. Most speed limits around here are 25 and 35mph, so I can not only keep up but in a nervy, rebellious moment, pass with style.

Parking is a premium commodity. I've been warned multiple times about being towed. Apparently the local economy is bolstered by the random removal of your auto if you park in the wrong space (or if the towers are having a slow day... or are in a bad mood.) We have not been victim of this, but I've been assured I will be. Everyone seems to have a towing rant. This should make David Atwell happy since he recently broke his tow.
Our schedule has been hectic. Almost every night, we've taken a break from meetings and/or unpacking to attend small groups, play softball or be a guest in someone's home. It's been a happy hectic. We're extremely grateful for the warm and hospitable reception we've received.
On Monday night, I played Settlers of Canaan with one of the small groups. It was the largest group I'd ever played Settlers with due to an "expansion pack" for the game. On top of that, the gals played. That was definitely a new one. How can you be cutthroat and bilk someone else's wife out of her wheat and be her pastor? I'm working on rationalizing that. I'm sure that hesitancy in my heart was what caused me to lose the other night.
I tweeted earlier this week about the fact that in my Virginia softball debut, I picked up right where I left off in my softball skillset. On Facebook and on Twitter, several "friends" astutely saw through that statement and pointed out ever-so-not-gently that my softball skillset was not impressive to begin with. In my defense, I will say I never struck out and that I did knock Cody in. The ball hit to me in right field that appeared to soar over my head from the perspective of those in the bleachers was actually caught in a major updraft common to the terrain around Blacksburg. Now that I know about it, I'll be ready...
Since we moved into a new house, we're still waiting on DirecTV - major snafus in scheduling a home install - and internet. Since no lines were run to the house when it was built, we're giving Comcast and Verizon a chance to beat each other to the punch. We've scheduled both, and the first to arrive to install internet wins our contract. Since we're Xbox-less, TV-less, and internet-less, we've had more time for Speed Uno and board games - not that it's been a lot of time. We collapse into bed each evening and sleep conquers quickly.
Soooo... welcome back to Notes from the Trail. I'll be trying to get on a more regular posting schedule here in my new haunts. Welcome to those who were regular readers, and welcome to my new ones. It's been and will continue to be a wonderful journey. I promise it won't be sluggish.