Review: Suffering and the Sovereignty of God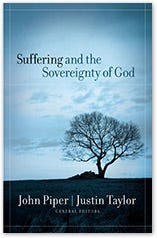 With Carolyn's 6th round of cancer and her resulting double mastectomy, it's not difficult to understand my timing of reading John Piper and Justin Taylor's compilation Suffering and the Sovereignty of God. It's the collection of messages presented at the 2005 Desiring God Pastors' Conference.
It's one of those books that may speak powerfully at different places according to the need and experience of the reader. I am a Piper fan, and have read many of his books. I was really looking forward to this particular one.
However, there is really only one chapter that I would highly recommend in the entire book - Piper's chapter 4:Why God Appoints Suffering for His Servants. The others are written by some fantastic folks - and folks familiar with suffering through personal experience - but they fall short of being inspirational. Perhaps Joni Eareckson Tada's chapter entitled Hope... The Best of Things is the second best.
Since the entire book is available for download here, I'd highly encourage you to read chapter 4. It's a rousing explanation of why Christians suffer. In short, they're chosen for it. I'll leave it to the book to give you the scriptural background for such a statement. The chapter is not just provocative, but it's deeply encouraging.
"Suffering is a primary means of building compassion into the lives of God's servants," Piper claims.
In my own understanding, suffering, in its very essence, is something that not only is God familiar with, but that God is sovereign over. Nothing escapes His notice because nothing falls outside His power. We groan, chafe, cry and agonize over our own suffering, but we also demand explanation for the astonishing and gut-wreching suffering of others - especially innocent others.
We want an explanation for it. We want an end to it. We want to control suffering, limit it, end it. We want a lot. We expect that "God" - if he is all-powerful - would want what we want and agree with us. We are insulted not only with God's unwillingness to bend to our demands, but we begin to redefine Him in our own minds when He doesn't perform the way a sensible, compassionate person would. We even begin to offer up excuses for God to others who demand explanations.
As scripture consistently reveals, suffering may not be explained to us on this side of heaven. We should not seek to explain suffering or excuse God. Rather, suffering provides a dramatic opportunity to exchange our life for the life of God revealed in Christ. There is power and love available from the Father for anyone who in his suffering clings to His infinite resources of strength, compassion, hope and help. They are riches which are inexhaustible. Anyone who has suffered will testify how quickly their own resources evaporate. That's a large part of what suffering does. Its strips us.
Suffering drives us deep. In another chapter entitled Don't Waste Your Cancer, Piper and David Powlinson advise the sufferer to resist the temptation toward solitude and instead allow suffering to lead you to dependent community with God's people. Our family can certainly echo that affirmation.
So... while Suffering and the Sovereignty of God may not be the best book ever written on the subject, at least one chapter was a significant joy for me in these days of ministry to my wife in her recovery time. You may find a wealth of instruction, encouragement and direction in its other pages.