Sugar Bowl blues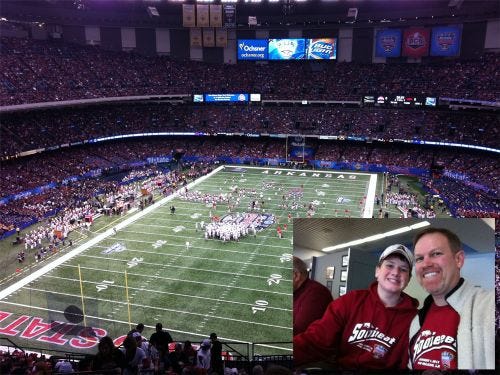 You might recall that friends and family helped send me and our worship leader to the Sugar Bowl. A Hog fan and a Buckeye fan traded barbs for just under a month. On Christmas day, Sam also was delighted to find that he had a ticket and was bowl bound. It was our first BCS bowl game.
We had a blast, but the final score, OSU 31, Arkansas 26 cannot unpack the intensity of the game. The Buckeyes played five players who will be suspended for the first five games of next year. They traded award paraphernalia for tattoos and money about two years ago. Those five players made the difference for OSU in the game. According to ESPN.com:
Pryor even sold a sportsmanship award from the 2008 Fiesta Bowl, along with his 2008 Big Ten championship ring. More egregious to Ohio State fans, he sold a "gold pants" trinket -- an iconic charm given to players who are a part of a victory over archrival Michigan. He may not be easily forgiven by Buckeyes fans who revere such traditions. Pryor must repay $2,500 for selling the three items.
So there was that.
Then there was the later revelation that Sugar Bowl executive Paul Hoolahan pressured the NCAA and OSU to allow the soon-to-suspended players to participate in the Sugar Bowl so that it would be a good matchup.
Then there was the hype around Ryan Mallet who at one time this season was a Heisman contender. The sheer athletic ability and sensation of Auburn's Scam Newton finally quieted his bid and all other hopefuls.
It was an epic matchup.
But it was a disgraceful first half. It was difficult to stomach as the Buckeyes surged forward and ended the half 28-7. But it got downright nail-biting as the Hogs clawed their way back into the game, field goal by field goal with another TD and then a safety.
The only point in the game that Cody got snippy was when he looked down the row to Sam and said innocently, "Hey Sam! Look! Our score is reversed." (It was 31-13.) He was a great winner and a fun sports partner for the trip, but especially for the 4th quarter.
As the final minutes ticked away, Arkansas stymied OSU's offense time and again. A questionable safety was awarded to Arkansas after stopping a run play in the end zone. The first half was all Buckeye, and the second half was all Razorback.
Finally, the Hogs stunned Ohio State with a blocked punt with 1:09 left in the game. The Hog fans were going crazy, and the Buckeye fans were not only subdued. They were deathly silent. I looked down my row and one point and due to the excitement of the game, I failed to snap a picture whose image remains seared in my memory of the experience. Cody and two OSU fans next to him were sitting down... their heads in their hands in disbelief and shock.
Their depression was short-lived, however, after an Arkansas receiver dropped the first pass attempt by Mallet (dropped passes plagued Arkansas all night and subsequently spawned a plethora of jokes about the Hogs' reception being worse than AT&T's). Unfazed, Mallet stepped back and fired a second pass... right into the soon-to-be-suspended hands of Solomon Thomas.
Sam and I transformed from jubilation to depression quicker than Professor McGonagall can turn into a cat. Cody, likewise, with from despondency to elation. OSU knelt on the ball in the following seconds to end the game.
It had been a great game, and we're still grateful to have been given the opportunity to go.
Hindsight
It's hard to decide how I feel about the suspended players playing in the game. The sports commentary in December and January seems to have heavily come down on the failure of the NCAA to step up to the moment and demonstrate integrity. After their exoneration of Cam Newton earlier this year amid suspicions, the general mood of the public towards the NCAA is not one of moral confidence.
One sports writer said that while OSU snapped their nine-game losing streak against SEC teams in bowl games with the win. It should be an important accomplishment and a relief for the program.
"But the victory has a dirty feel, and reeks of poor judgment and misguided priorities."
On the other hand, I'm not sure any Razorback fan would have wanted to win (and it seems a foregone conclusion that we most certainly would have without the contributions of those players) against a hobbled Buckeye team. It's rather hard to boast of a win against a team that didn't have all its resources present.
The bigger picture remains elusive for most and should not depend upon loyalty to a team. I think we all lost in this year's sports shenigans.
In September, it was announced that former USC star Reggie Bush's Heisman Trophy would be given back and his accomplishment expunged from the Heisman record. "In the Reggie Bush case, USC was given a two year bowl ban for using an ineligible player in two bowls. That ruling was arbitrary and the first of its kind." [Source]
I think one thing we're seeing is the inner turmoil involved among "leaders" when they are faced with making difficult decisions. It's not easy to penalize a student-athlete when it will affect other athletes, a team and a school and a fan base who did nothing wrong. What we need is consistency. As much as it hurts, we need leaders who will establish and stick to rules and procedures for the betterment of the organizations and institutions they lead.
Another thing is the ridiculous amounts of money involved in college sports. It's not easy to justify the excessive and extreme amounts of financial benefits that coaching staffs receive when they win their conferences or get selected to a BCS game (Here in Blacksburg, VT football coach Frank Beamer received a $50,000 bonus for winning the ACC and another $75,000 bonus for the Orange Bowl. VT athletic staff is compensated with bonuses all the way down to the equipment managers [Source]). It's especially contentious when the athletes they rode to those games receive little in comparison to the work involved (does a 3 or 4-year full scholarship - when non-athlete students receive the same for merit - justify the financial reward received by coaches and schools?).
The sheer fun of sports is tarnished when rules are ignored and regulations are obscured. I have no solutions. Just a bandwagon.. Is anyone catching this?
The one thing I'd like to have heard from all this on January 4 is.. "Mallet throws! He catches it! Touchdown!"