Thankful for pardon
I love Thanksgiving. The holiday. The restfulness and the chill in the air which allows an early morning fire in the fireplace. It's an annual family tradition to watch the Macy's Thanksgiving Day Parade. Well, Sam sleeps through it while Carolyn and Adelyn watch it. I use the background noise to write my annual thanksgiving blog.
I love Thanksgiving. The act and the attitude. In last year's post, I said "You cannot be full of pride and simultaneously full of gratitude." This day is a built-in corrective to the prevalent cultural mindset of rush, worry, argue, finger-pointing, selfishness and spiritual deaf and deadness.
On Tuesday President Trump pardoned two turkeys, and those turkeys will come to live out the rest of their life just down the street from us. Virginia Tech provides their home: Gobblers Rest.
Isn't that what we all need? A pardon? A pardon that leads to rest?
And isn't that exactly what Jesus does? All who believe in Him receive eternal pardon and the promise of perfect rest. Thank goodness. Truly. God is truly and fully good for not holding us accountable for our faults, failures, atrocities, hate, smallness, rebellion, meanness, spite, depression, seeking worth in everything but Him. He has pardoned us and poured on Jesus the weight of our gross straying and false identities.
I am thankful that pardon in Jesus is a real thing and for being pardoned.
What else am I thankful for?
Life is crazy, fast, confusing and even cancerous these days. Everything feels "in the meantime." It's as if I'm not where I belong, and yet, I am prompted to give thanks in the middle of good time AND hard times. And soooo....
5 Things I'm Thankful for
Socks. I have never been one to even think twice about socks.. even though they come in pairs. However, this past year, I've gotten dad socks, Spock socks (complete with pointy ears that stick out) and just this past Sunday, Bigfoot socks. All have been gifts. Socks are also great way to learn to speak Spanish. Just spell them out loud: S-O-C-K-S."Eso si que es!" (you're welcome)

Foreign languages. Now that I've taught you Spanish, I might as well teach you Australian. If you say "Where are the rise up lights?" at Walmart, you'll be directed to the aisle with razor blades. If you go to a tattoo parlor and say the letters "PSDS," they will poke holes in your earlobes. You're welcome. I was in Istanbul again this past summer, and I truly am thankful for different languages. It's a humbling reminder that communication takes work. The most gracious thing one can do is learn someone else's language. It demonstrates that you value them and their culture. Speaking English slowerdoesn't do it (as if that will help someone who doesn't speak it suddenly be able to interpret it).

My mom and dad. They are prayer warriors for me, my church, our family, and others. I'm thinking about them this Thanksgiving morning because they wanted to be with us. My dad and I laugh at each other's jokes faithfully. I love teasing my mom. There's nothing more entertaining than listening to one of their 30-second spats. They are real, fun, Jesus-followers, and I'm thankful for them.

Truth-speakers. Last Sunday, I preached on Genesis 15. Verse 6 is the good news of how only faith makes us right with God. "Abram believed God, and He credited it to him as righteousness." The feedback I received was humbling. However, I think the reality is that when we hear truth - epecially the gospel truth - it moves us. I've recently read Gay Girl, Good God by Jackie Hill Perry. She speaks truth fearlessly and graciously. I appreciate how she speaks truth in love and anchors it not to her sensational story but to scriptures. She is relentless about applying the words of the Bible to life, lifestyles, gender, attitudes and ministry.

Billy Graham. "Well done, good and faithful servant." I wrote about his death this past year. It was a joyful reminder of the indescribable value of a lifetime of commitment to the simple message of hope, faith and love through Jesus Christ alone.

College kids. This will be the last Thanksgiving that we have two kids in college, God willing. Sam will graduate in May. Watching him and Adelyn excel and thrive in college (one has enjoyed the academic side more than the other) as young adults has been a deep encouragement. We've loved their friends, their choices and their desire to serve in ministry and church - outside of our own encouragement and influence. Their faith is their faith, and that prompts profound gratitude.
Oh the Places I've Been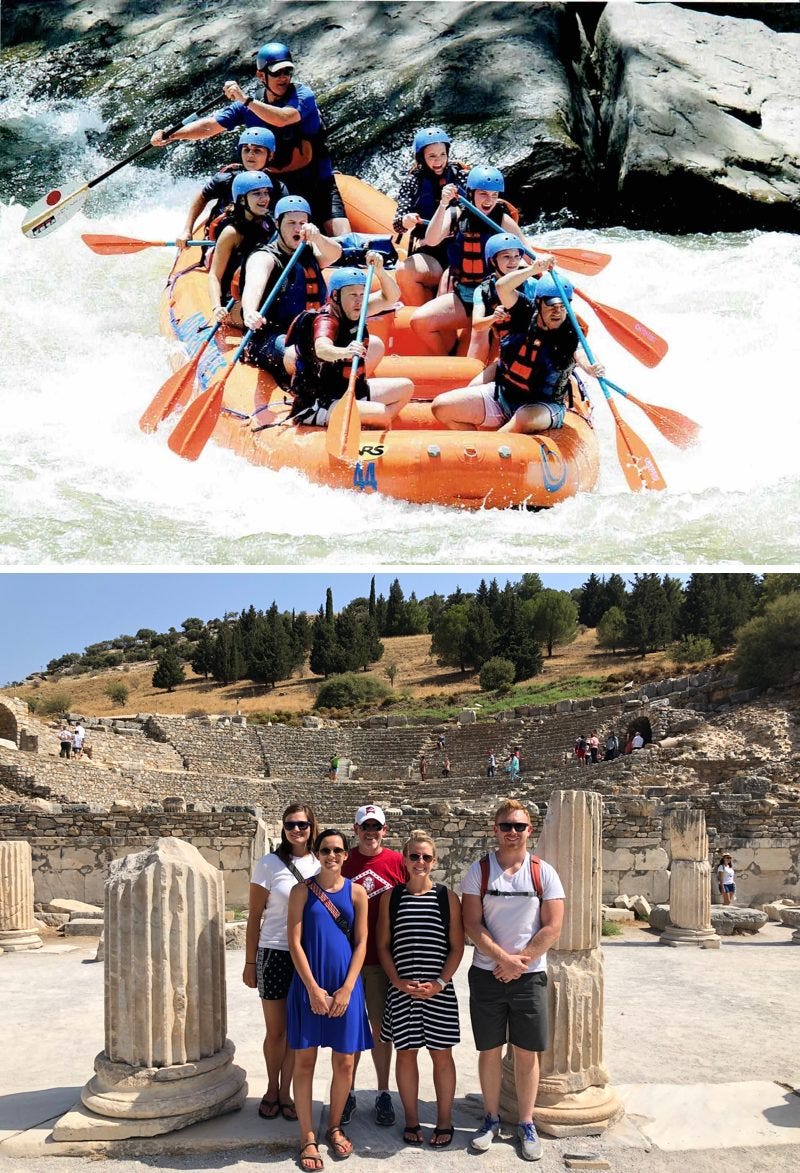 From Istanbul to Arkansas, from lakes to mountain tops, this year has identified some special places. I had a man in Istanbul jam his thumbs so deep into my calves that I screamed like a girl during a Turkish bath. And one of my favorite moments in Turkey was an early morning spent just looking out over the city from the second floor of a Starbucks.
We took a trip to Arkansas and met friends from Dallas at Hot Springs. There was also a white-water rafting adventure in the New River Gorgein June and awedding in the D.C. area in October.I took a personal retreat to Mountain Lakeearlier this month that was refreshing and centering.
So Thankful
So what are you thankful for? If your a blogger - new, old or even inactive, let this post stir your own entry to thankfulness and gratitude.
Gratitude is a defiant proclamation to a world inundated in scorn and apathy. When I assume a position of thanksgiving, I am able to announce confidence in God - in the face of cancer, in the middle of political hatred, in circumstances less than ideal. When I find myself in unwanted "in the meantimes," gratitude helps me refocus and cast my cares (and praises!) upon a God who cares for me.
So share your own thanks... today. Steal a few minutes and post/tweet/say/share what you're thankful for. Even if it's for turkeys that weren't pardoned.
Happy Thanksgiving!
Thanksgivings past: