The clothing of creation
I read this week in Psalm 65 about the designer line that God has unveiled on the runway of the earth:
You crown the year with your bounty; your wagon tracks overflow with abundance. The pastures of the wilderness overflow, the hills gird themselves with joy, the meadows clothe themselves with flocks, the valleys deck themselves with grain, they shout and sing together for joy.. (v11-13)
I meditated on the colorful and descriptive language that Poet-King David used to describe the scenes he had so often feasted upon ocularly. Phrases like "overflow with abundance... hills gird themselves with joy... meadows clothe themselves with flocks... valleys deck themselves with grain..." all speak to the magnificent excess of praise that the Father so worthily receives from Creation. Who hasn't been overwhelmed with a scene of unspeakable natural wonder? My family had the opportunity earlier this year to view Mt. McKinley from a distance, and it was simply stunning.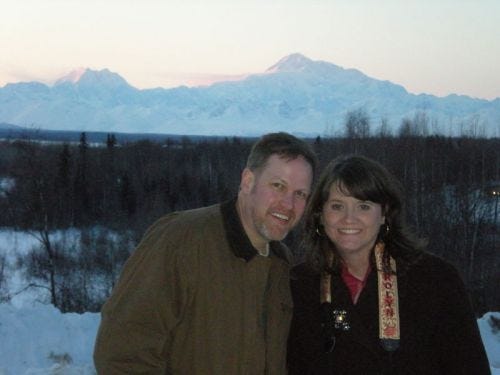 To consider how God has so carefully and beautifully adorned the created world is one thing. To drink deeply of His careful consideration of our lives is another. We tend to doubt His awareness of our needs and concerns. We tend to drink too deeply of worry and anxiety's wells.
Yet Jesus - perhaps in reflecting of the majestic truths in places like Psalm 65 - reminds us in Matthew 6:
But if God so clothes the grass of the field, which today is alive and tomorrow is thrown into the oven, will he not much more clothe you, O you of little faith? Therefore do not be anxious, saying, 'What shall we eat?' or 'What shall we drink?' or 'What shall we wear?' For the Gentiles seek after all these things, and your heavenly Father knows that you need them all. But seek first the kingdom of God and his righteousness, and all these things will be added to you. (Matthew 6.30-33)
Visions of creation's clothing should encourage us for the Creator's care. The valleys have nothing on us. While they are decked with grain, we are robed with salvation. If we neglect to praise Him for His love; however, Jesus hinted that the Creation will grow noisy with praise. ("I tell you," he replied, "if they keep quiet, the stones will cry out." Luke 19.40)
Let us rejoice in the clothing of creation. Its fashion line hints at the abundant love of the Father for those who trust in Christ Jesus.