The New Testament Project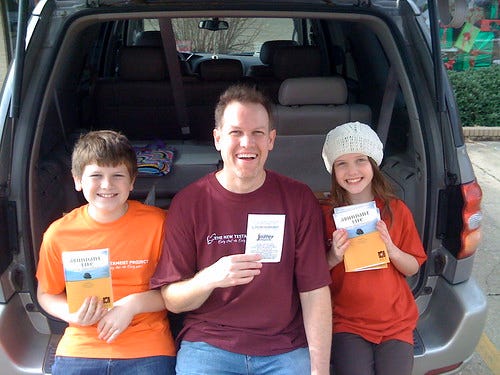 Several weeks ago on the way home from somewhere, I had a "vision." Essentially it was of what might happen in everyone in our community were to jointly read through the New Testament in a year together. Considering that it describes the life of Jesus Christ and how a few boringly mundane men and women suddenly became fugitives from religious persecution in Israel by Jews and in short time enemies of the emperor in the Roman Empire, how could reading it not change someone's life?
Our church gave New Testaments to moms and dads for Mother's and Father's Days which had a reading plan that took one through the NT in a year. So all this year, I've been reading bite-sized portions of the NT in addition to my other readings. It's been so refreshing.
And that was the idea... what if a bunch of people were doing this? So Tracy, Jeremy and I went in together and bought 250 NTs to distribute. It was all we could afford. Today was the day, and while Tracy could not participate, Jeremy and I and my kids all headed out and met some incredible neighbors in the area around Journey.
Two hours beating the pavements and knocking on mobile home doors (predominant housing in the area just north of our church), and we'd not had one negative encounter. Rather, on the whole, everyone was very receptive. A few told us they had Bibles already but asked for the card we were handing out that had the reading plan on it. One lady even graciously gave us $5 (though we tried to turn it down). We'll use this toward the purchase of more NTs.
We're hoping that the idea catches among others in our church and even in other churches in our community. There's nothing like going door to door (rather than doing a mass distribution at Wal-Mart - we considered that too). We think it communicates that we cared enough to come to their door. On top of that, we know exactly what parts of town we've already covered as we prepare to go out in the future.
Every street... every door... every word... That's the vision of the New Testament Project.