The scooter that love bought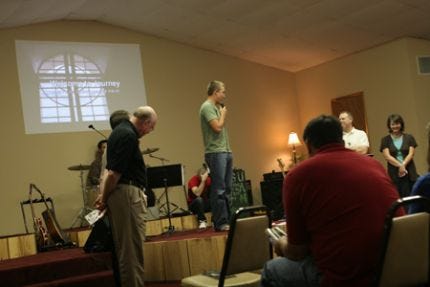 This past Sunday was a powerful one at our church. Consider the following as part of the planned schedule:
Baptist Collegiate Ministry praise band led worship

2 reps from the International Mission Board spoke

I preached in the Life Essentials series - topic: Satan & Sin

Lunch meeting with the 2 leaders from the IMB and Journey's leadership team

Cookout and kickoff of our fall small groups that evening, combined with a baptism (3 kids, 1 adult!)
It was such a wonderful and joyful opportunity for our church and guests to celebrate the presence, power and rule of Jesus Christ. We laughed, cried, and witnessed everything from drumming praise of Joe Matthew to the immersion of Taylor James.
Yet, that was not all the day held for me. After I finished teaching and sharing some announcements, Jeremy took the microphone and said there was one remaining surprise.
Now, I had already begun to wonder what was going on earlier when my best friend and college roommate and his family showed up for worship from Arkadelphia. My parents appeared right as the worship service started. On top of that, David James, the collegiate ministry team leader for Arkansas Baptists also "happened" to be in attendance.
Jeremy invited all of these up to the front and asked for me to return. My gleeful wife was beaming. Something was definitely up, I wisely surmised.
Imagine my stunned response when they presented me with a check - a love offering collected from the church and friends - in the exact amount of what my new-to-me scooter had cost. I was stunned. To top it off, so were they when they had realized that the amount they had collected EXACTLY matched what I'd spent on the scooter.
I was moved deeply. With their gift, I was able to pay off the scooter yesterday! It was a huge blessing for our family. The depth of love and support that they all showed was deeply humbling. I wondered afterwards why it is so hard to be on the receiving end of someone else's unreserved appreciation?
So, this is the second scooterthat love brought to us. I am deeply thankful.