The "Supreme" Court, indeed: thoughts on the same-sex marriage decision
It was a text message from one of our young adults in our church that alerted me to the results of the ruling.
Hey I know this is so random but I'm sitting here watching the news about the Supreme Court decision for same sex marriage and I'm struggling. I have no idea what to think or how to handle it... I'm sad because it's just another example of the world turning from the Lord, but so many of my peers' eyes are on my reaction as a Christian. How do I still love but not agree? I don't know what to say 🙈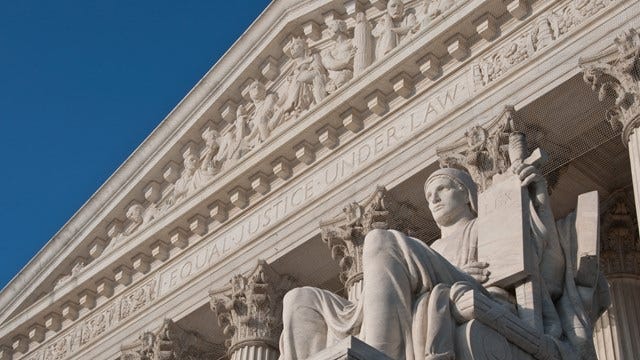 Image: Mark Fischer/Flickr: From CT articleOn Friday, June 26, 2015, the Supreme Court of the United States ruled in a 5-4 decision that same-sex marriage was legal throughout the country. Their split decision invalidated all the state-wide, voter decisions on making homosexual marriage illegal. It also set the stage for a long, drawn-out culture war.
The ruling has potential for a great civil and cultural divide unlike any other before it. If a bakery can be fined hundreds of thousands of dollars for refusing to bake a wedding cake for a same-sex couple, what will a Christian (or even Muslim) church be fined for refusing to marry a same-sex couple? Will pastors (such as I) who believe that the Bible teaches homosexuality to be a sin and thus the marriage of a homosexual couple to be not just a sin but a grievous mockery of God's institution of marriage be fined, silenced, and jailed?
There will be a lot of people attempting to weigh in on today's decision, offering opinions, reflections and even celebrations. I expect I'll be disappointed by many Christians who will celebrate the judges' decision as a step forward in civil rights rather than as a society's continued slide into relativism.
Some will be vicious and venomous in their frustration and as a result not reflect the character of Jesus. Others will urge love and patience. I think somewhere in the middle is the right response - a loving but firm resistance and if necessary, civil disobedience, to today's ruling by fiat is in order.
For those who don't understand the Christian perspective, it's truly difficult to explain in a blog article. Christians are not against "love," of course. The Bible teaches that God IS love. However, true love is not a feeling of romance or attraction to another. Love always has established boundaries. God established the boundaries for love (and sexual expressions of affection) inside the committed, monogamous bonds of marriage between a man and woman. It's such a big deal to God that He compares His Son Jesus' relationship to the church as the relationship a husband has with his wife. It's an ongoing analogy in the Bible.
So it's a big deal for Christians who seek to obey the Bible to be forced to disobey the Bible by either supporting or performing a ceremony that they see as spiritual in origin and defined and portrayed by God as being between man and woman.
In addition, now that an institution as old as humanity as been refined by 5 justices for an entire nation, there remains no underpinning to resist further redefinitions of what's moral in regard to human sexuality, marriage and relationship. For starters, why should polygamy be illegal? The list goes on. It's simply and horribly a slippery slope of relativism that our nation is on, and Christians (with other religions) will be forced to decide anew how to respond to a culture that refuses to acknowledge that just because something may be legal doesn't make it right. It's hard to discuss objectivism with those that insist that as long as something makes a person "feel" good, it must be right and ok for them.
I appreciate Mark Galli's article in Christianity Today in which he lists Six Things To Do after the Supreme Court Decision on Gay Marriage. Because so many will be preaching doom and gloom, they are worth repeating:
Rejoice

Repent

Rethink

Re-engage

Reach out

Rejoice
Yes, rejoice is mentioned twice. Here's what Mark says about it:
Again with Paul we say, rejoice. In particular, we rejoice because of God's call for us at this critical juncture of history. Just as the 4th-century church was given the responsibility to think through the nature of Christ, and the 16th-century church had the task of pondering afresh the relationship of faith and works, so we in our time are called to think through and respond to a host of issues surrounding human sexuality. What we teach and what we do in our time will shape the church's thought and life for generations to come... With great responsibility comes great gratitude for being entrusted with so crucial a work.
I agree with Galli's assessment. These will be days of re-thinking for the church. They are also days to remain confident in God. There is, after all, a court that is truly supreme that all will stand before:
Then I saw a great white throne and him who was seated on it. From his presence earth and sky fled away, and no place was found for them. And I saw the dead, great and small, standing before the throne, and books were opened. Then another book was opened, which is the book of life. And the dead were judged by what was written in the books, according to what they had done. (Revelation 20:11-12)
Other Helpful Posts: