Their Story: Megan Carver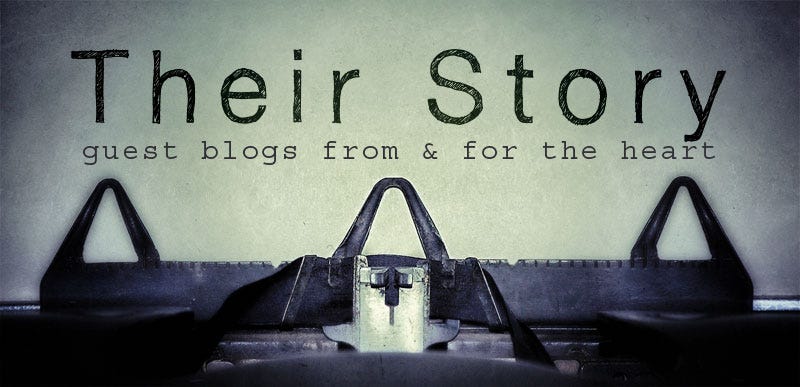 It's Guest Bloggers Week(ish) with the theme of Their Story with the assignment of "an experience that has shaped who you are today." Today's guest is Megan Carver.
Megan and her husband Shane are members and key leaders in our church. Megan has served just about everywhere she's needed, and Shane has served on our Leadership Board. They are most characterized in my mind by their smiles. They laugh easily and often, and they are an encouragement to others constantly. Megan is an avid read and writer, and she was actually one of the first people I thought of when I began this series. I'm grateful to introduce you to her. She blogs over at Pemberley Ink; please stop by her blog and tell her hi there.
Day "Job": Mom, Writer, and Teacher

Education:Bachelors degree in English Education from Cedarville University

Favorite movie:You've Got Mail

Favorite book:Pride and Prejudice by Jane Austen
---
For the Single Ladies
When I thought about who might be reading this and about all the people in my church, I knew I wanted to tell a part of my story that would resonate with all the college students. Especially all you single ladies. (Are you singing Beyonce's song now? Sorry about that.) So all of you 18-24 year olds that aren't married yet. Guess what it's ok! And here's why.
I swore I would never be one of THOSE girls. You know the boy crazy kind. All they do is talk about their man and how great he is. Their every waking moment is about some guy. But when thinking over my life one of the most defining moments of who I am today is when I met my husband. There I said it. So much for being an independent woman.
Here's my story...
When I went away to college I realized something. Casually dating even in the "good Christian girl" realm wasn't great. In fact it really just left me with broken hearts and wasted time. So my sophomore year of college -when I transferred into Cedarville University- I had a little conversation with the Lord. I basically told him that I wasn't interested in dating or any kind of relationship until it was THE ONE. The whole dating thing really was just too stressful and I was finally off to college to get my degree.
And guess what, I didn't date anyone for three years! And it never really bothered me. I was so incredibly happy going to school and building really close friendships that I didn't miss being in the "serious relationship crowd." In fact, I kind of looked at couples around campus and felt sorry for them for being tied down. I really embraced that time. I was free to do anything and go anywhere. When graduation came I figured that since I didn't end up meeting "him" there I would probably be single for a long time. And I was okay with that. For the first time in my young life I was totally at peace and fulfilled in my relationship with the Lord. So I applied for my dream job- an English teacher in an inner city school in Tampa.
My best friend Heather and I moved down to Florida a month after graduation. She started her job as a NICU nurse and I began the school year teaching kids that stole cars and dealt drugs on the corner. I loved it. And I was totally fulfilled. It wasn't just a job, it was a ministry. But, I knew finding a church was key to making Tampa feel like home. So I decided to visit a large church in the area that had a huge population of college and singles. I was hoping to replace all of my friends from college with new ones. Ok, just kidding, those people are irreplaceable. But I knew I wanted to find people going through the same stage of life I was in.
Wouldn't you know my very first Sunday I met a lot of new friends. Even some really "cute" ones. But there was one especially that stood out in the crowd. Well rather he sat, leaned back in a chair, looking way too cool for anyone else. I determined he was probably arrogant and most likely a jerk. And found it incredibly irritating that he was the only person in the room that didn't give me the time of day. Thankfully first impressions aren't always correct.
You see, that cute guy is now my husband. Turns out he is just not a "large crowd" kind of guy. He's more of the observer type. I spent the entire first three months attending church thinking this guy was totally rude.
So I know I jumped from "too cool" to now he's my husband. Let me backtrack a little bit.
Remember Heather my roommate? My partner in singleness and enjoying our new jobs? Yeah, turns out this guy named Sean had a total crush on her. So he invited her out on a double date. He asked her if I would come and be his roommate's date. I decided to take one for the team. I knew she was interested in him too and was excited for her to go out with him.
So guess who my date was? Yep, arrogant guy in the background. Also known as Shane. And the rest they say is history. A month later he told me he wasn't interested in casual dating and gave me the book Boy Meets Girl. He asked me to read it and if I wanted to- he would like to court me. I thought that was pretty amazing. I didn't think guys like him actually existed in the world. I had read Josh MacDowell's book I Kissed Dating Goodbye but didn't think there were actually men that took his advice.
Now to say I fell hard for him is an understatement. Within a month of courting we both knew we were going to marry each other. I was so incredibly at peace with our relationship. There were no games, no manipulation, no guessing. We had both laid our hearts on the line. And we had no doubts that we were each other's soulmate.
For the first time I was dating someone that was interested in the future, that loved the Lord, and wanted our relationship to honor God. He was totally worth the wait. Those four years of not being in a serious relationship ended up being a lot of fun. I made friendships with my dorm mates who to this day are more like sisters. I finished my degree and worked my dream job. I traveled and was free because I was open to whatever God had for me.
I look back on the night I told God that I just didn't want to date anymore and am so thankful He listened! He protected me for those three years even though I was immersed in the Christian culture of the M.R.S. degree. He knew who was just a few years in my future. He prepared both of us for the perfect moment. Only when we both focused on our relationship with God were we finally ready to meet each other.
And that's what I want people to take away from my story. To embrace the life that you are in NOW. God has a plan. And His plan is so much more amazing that you could imagine.
And that really cute guy sitting in the back of the room? We had four kids and just celebrated our eleventh wedding anniversary.
"Now to him who is able to do immeasurably more than all we ask or imagine, according to his power that is at work within us, to him be glory in the church and in Christ Jesus throughout all generations, for ever and ever! Amen." (Ephesians 3:20-21)