Their Story: Sarah Beyer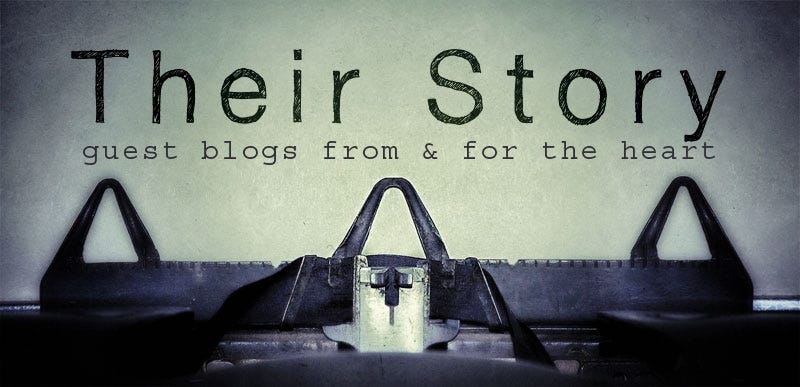 It's Guest Bloggers Week(ish) with the theme of Their Story with the assignment of "an experience that has shaped who you are today." Today's guest is Sarah Beyer.
Sarah is a stay-at-home mom of four: three girls and an adopted son. Carolyn and I have double dated with Sarah and her husband Brooke several times, and we appreciate their love for laughter and joyful intentionality about their faith. Sarah blogs over at Graffiti, and I'd encourage you to stop by say hi to her there.
Day "Job":Stay-At-Home Mom

Education: Degree from Kansas State University

Favorite movie:Dan in Real Life

Favorite book: They Found the Secret by Raymond Edman
---
A habit of desperation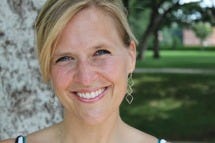 It all started when our marriage fell apart. In the midst of disaster, my husband, Brooke, and I fell to our knees and began to pray regularly together in a desperate attempt to put the pieces back together.
Early in our marriage we had periodically tried to pray as a couple but it usually began late at night with one of us longing for the other to initiate it and ended with both of us falling asleep before it was over. However, the crisis that came in years 10-12 of our marriage brought us to a place of willingness to do whatever it took to find healing and restoration, so we began a habit of nearly daily prayer.
This habit born of desperation started as a way for us to reconnect and begin our days on the same page, and it did not disappoint. We threw fancy and formal out the door and instead came to God raw and real. There was no formula or legalism, just earnestness. Some mornings Brooke had to leave for work around 6:00am so he would wake me up at 5:55am. We'd talk to God together for five minutes and then I'd fall back to sleep (or not, but it was worth it.) We brought the Lord our worries and asked Him to work miracles in our lives and marriage. We brought Him our frustrations and confessed even our occasional lack of desire to pray together. We gave Him our children and our future and asked Him to grow His character in all of us. We asked for direction and hope and encouragement and lifted up the needs of our friends and extended family. Where our hearts were shredded God used our consistent prayer time to make them whole and knit our marriage back together again. It was messy, because we are messy–but that is the best way to come to God. When we came without answers and without pride, we found hope.
When Brooke and I first came together to pray, we had nothing but the belief that God was listening and a desire to reconnect with one another, but we discovered something even better than we hoped. We found that it actually matters when we pray. For some reason, God has set things up in this world so that His power is released when we pray. I honestly don't get how it all works, but I have seen over and over again that asking Him for help is powerful. He listens and responds. He brings hope and encouragement to the darkest situations when His children ask.
I used to think there was no reason to pray if God is all-knowing and His will is best. Now I know that fellowship with Him through prayer is the best thing in my life and He WANTS me to ask Him for help. I used to think that I had to have an answer to a problem figured out so I could ask Him to intervene in just that way. Now I know that I can just lay my need before Him without prescribing the answer. I also used to think that prayer had to have certain complex ingredients, like Adoration, Confession, Thanksgiving and Supplication. Now I know that prayer is just a simple conversation with my Dad who loves me and the only ingredients that are necessary are the ones that flow from my heart. Often that is confession, to bring me back to a place of humility before Him, or thanking Him for all the simple and profound blessings in my life, to bring me back to contentment. Always it is asking for help and sharing my feelings with Him, to relieve my anxiety and fill me with a certainty of His presence in my life.
This is why when Jesus breathed His last breath, God tore the veil that guarded the Most Holy Place in the temple. Where previously only the high priest could enter after crazy long rituals of purification, now God says to every one of us, "Come here, you." He wants us in the Most Holy Place, in His presence, in deep, true fellowship with Him. It is a powerful invitation with incredible results.
Seven years after we began this habit of prayer out of desperation, Brooke and I are still praying together on a regular basis. We miss some days, but hit most of them, and because of it have experienced incredible things:
Our marriage is completely restored--our emotional intimacy with one another deeper than we ever dreamed.

Our lives have turned in directions we couldn't have anticipated and only pursued because of the clear prompting of the Holy Spirit. (Just sayin', I would never have become a foster parent without being told to do so by God, but oh the joy and growth we would've missed.)

A darling son has been miraculously brought into our family through adoption when all hope seemed lost.

Our hearts are different, more trusting and dependent on God. He doesn't always do things the way I am most comfortable with but I've learned that what He does, He does well.

Through our fellowship with Him, the Lord has provided comfort in difficult times, encouragement when we are down, and the strength to keep turning toward one another even when it's hard.

As we've committed our finances to Him, we've seen miraculous provision, the crazy blessing of being generous even when things are tight, and our priorities changed.

As we've prayed for our children and our friends and family, we've seen God soften hearts, heal sicknesses, save marriages, provide financially, begin new adventures, and speak clear words of encouragement. We don't boss Him around, nor does He always do just as we ask, but God clearly hears us and loves when we come to Him for help.
It is not an exaggeration to say that praying as a couple has been the most important thing Brooke and I have ever done together, and it is the primary encouragement we give to every married or engaged couple. It is as though our family is a train and when we pray together at the start of our day, we are putting our wayward train cars back on the track and yielding our own wills to the only One who can truly run our lives and this family well. Our hearts are running over with gratitude at His presence and all we've seen Him do. It's a crazy, humble, powerful, scary, amazing way to live and it's never too late to start.
Then Jesus shouted out again, and he released his spirit. At that moment the curtain in the sanctuary of the Temple was torn in two, from top to bottom. The earth shook, rocks split apart… (Matthew 27:50-51)

And so, dear brothers and sisters, we can boldly enter heaven's Most Holy Place because of the blood of Jesus. By his death, Jesus opened a new and life-giving way through the curtain into the Most Holy Place. And since we have a great High Priest who rules over God's house, let us go right into the presence of God with sincere hearts fully trusting him. For our guilty consciences have been sprinkled with Christ's blood to make us clean, and our bodies have been washed with pure water. Let us hold tightly without wavering to the hope we affirm, for God can be trusted to keep his promise. (Hebrews 10:19-23)

So let us come boldly to the throne of our gracious God. There we will receive his mercy, and we will find grace to help us when we need it most. (Hebrews 4:16)