Thursday in Krakow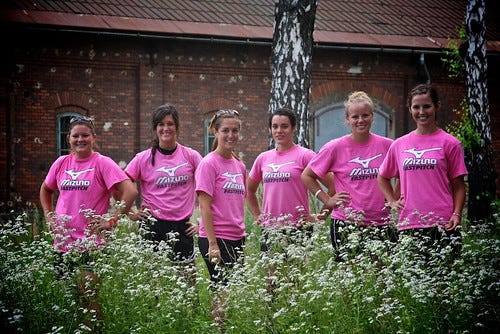 Thursday was another amazingly full day. The members of the UAM Cotton Blossoms who are on the trip with us - Becca Tipton, Kayla Temple, Savannah Morin, Lindsay Randall, Amy Mardis and Becca Sustaire - have been simply incredible. We all knew their team was fantastic, but what we were unprepared for was just how good these girls really are - not just at their sport, but in their love and work ethic.
They have burned the candle at both ends and served long, hard hours in kids camps and practicing with a newly-formed baseball team here in Krakow. All at their own expense and from the donations and love of others. The end goal is to honor and bring praise to Jesus Christ here in this beautiful city.
They've built relationships and opened several doors for the missionaries to continue their work and ministry. I'm also grateful for the parents and families of these girls who have trusted us and Journey Church. They helped contribute and encouraged us as we pressed forward with this trip - even with scant details.
Carolyn and I have been grateful and so blessed to see how the Lord has used every member of our mission team so far on the trip. Lou has been simply incredible with the kids that she has taken under her wing. She's been a constant strength and source of help at every phase. Tracy has continued to battle with me for title of funny man of the week. Too bad he's losing so far. Seriously, I am so grateful for his presence and his witness and leadership. As a campus minister, trips like these not only help him connect with the students with us but capture a vision for ministry on the campuses of the world.
After another jam-packed day of ministry and softball, we cleaned up and ate at a Chili's-style restaurant called Yummies on the Rynek, and it was delicious. Two of the baseball players joined us and then took the gals around after dinner while us old folks searched for an ice cream stand before heading back to the hostel for a rousing game of Phase 10.
Truly, there is nothing more surreal than walking around the Rynek at night with the gorgeous lights on the St. Mary's Cathedral and seeing the carriage rides lined up along the cobble stone roads. Thanks to those of you who gave so generously to make this trip possible. We are supremely grateful at every moment for the sacrifice and generosity that you displayed.