Tithe your social media influence
I keep hoping Facebook will die. Back in 2013, I said, "Facebook is dying with the younger generation" based on anecdotal observations with my kids who preferred Instagram, Snapchat and GroupMe.
Whatever the digital pipeline, this thing called social media isn't going away.
What does that mean for those of us who are followers of Jesus?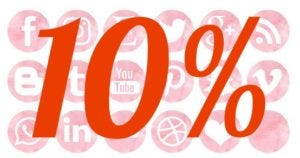 While I could post about ensuring that your content is passed through the testing of Ephesians 4:29, this post is about tithing your social media influence. The Bible teaches tithing clearly in the Old Testament, and it's assumed in the New Testament, with the additional encouragement to give cheerfully and sacrificially. Tithing is the practice of giving at least 10% of one's income to God.
I'd like to suggest that believers tithe their social media influence. Consider using 1/10 posts that you make for the glory of God and the blessing of others. There are endless ways to do this. You can post/share:
Scripture

Something about your church

Reflections from your devotional time

Encouragement

Links to sermons

Links to worship videos that inspire you

Links to stories that uplifting and reflect Christ

Thanksgiving for answered prayers

Recognizing those in the church who serve

Respond to posts you see with promised prayers or encouragement from scripture
Social media doesn't seem to be fading in influence. In fact, it continues to reshape the way we communicate, interact and it even has dramatically impacted our attention spans. The challenge for Christ followers is to avoid being mastered by social media and instead to seek to be a steward of your social media influence.
Commit today to experiment by tithing your social media influence. Leave a comment below if you're up to the experiment!