Top Books I Read in 2019
I useGoodreads to help me keep track of my reading, leave brief reviews and get book recommendations. It's really a fantasist resource.
I set a low goal of reading 25 books this past year after reading 38 in 2018. I wanted to be realistic in light of this past year of highs and lows. And yet... I just kept reading and reading. By the end of 2019, I had read 43 books! I hope you'll consider some of my recommendations for your next book. If you need a soulmate, a book can make a good companion. It's not perfect, but it will occupy you in the quietness of your day/night.
Here's the pretty graphic from Goodreads, but keep scrolling for my top 10 books.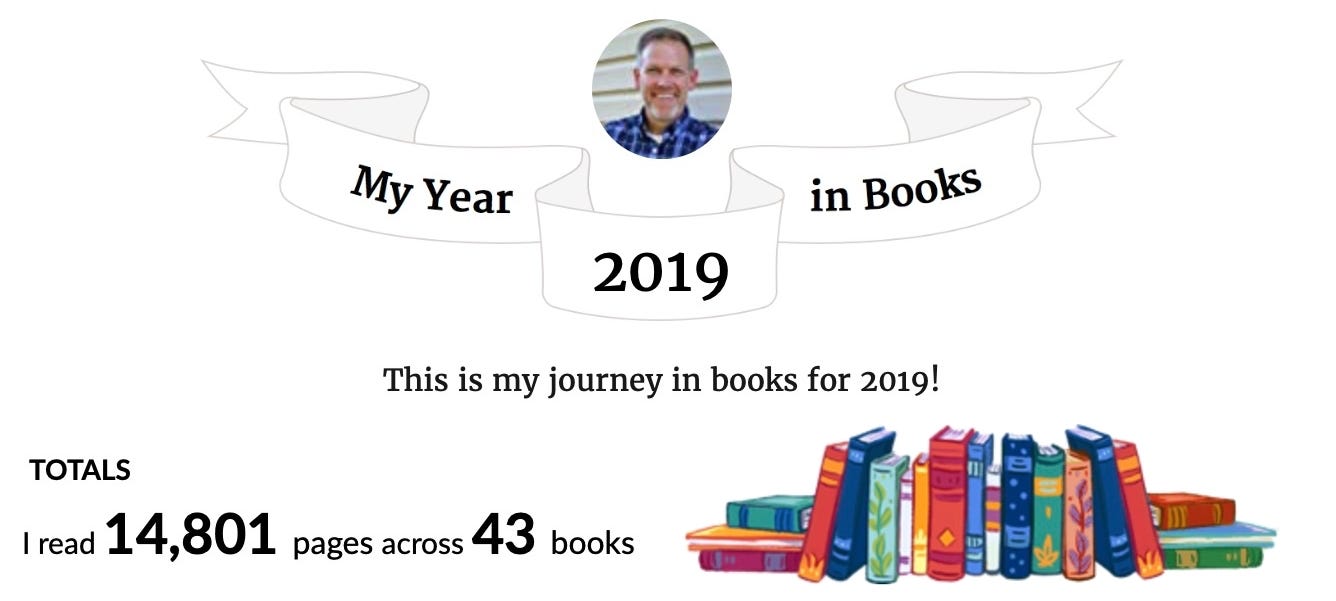 Here's my top 10 books I read, with 10 being the best:
I'd really love to hear in the comments about books you read in 2020 that you might recommend. Also, if you decide to read one that I recommend, please let me know!
Honorable Mention
All That's Good: Recovering the Lost Art of Discernment by Hannah Anderson. I loved her first book Humble Roots, so I was eager to read this. It is good. I was not disappointed. Her introductory chapters (1-3) were fantastic. Then she unpacks each part of Philippians 4:8-9. That's when the book bogged down a bit. However, there are great nuggets throughout. Her chapter on "what is commendable" is fantastic and has powerful application to our modern information-overloaded culture, especially as we relate to social media. See my full review here.

The Reckoning by John Grisham. I don't know that I've read a book by Grisham that has disappointed though I've stayed away from his non legal-thrillers books. This book tells the tale of vet who murders a preacher in cold blood (eek) and doesn't reveal the "why" until the end of the book.
Here are some series that I read:
Books I Stopped Reading:
The Mountains Are Calling: Making the Climb for a Clearer View of God and Ourselvesby Jarrett Stephens. This book is by a graduate of my alma mater OBU, but it just didn't meet expectations. The premise of how God works and speaks from the mountains in scripture (Moriah, Sinai, Carmel, etc.) was interesting. I started with high hopes and then .. it just felt relatively .. mild to me. I can't describe it any other way. It was just "ok." There are too many great books waiting to be read to spend more time pushing myself through an "ok" book.