The $2 trillion COVID Relief Package
The Senate passed a $1.9 trillion COVID relief legislation package this weekend. Trillion. It passed along party lines in the both the House and the Senate.
Imagine if I tried to lead my church that way. If I disregarded what 50% of my members thought and spent money that everyone gave, I'd have a church split on my hands. In marriage, if I spent a massive amount of money on a house or car - in significant disagreement with my wife - I'd be in deep trouble relationally.
Back in 2012, I wrote What politicians should learn from pastors, and as I reviewed it, my words seemed prescient for today's political climate more than ever.
Politicians and pastors. Both are professions in which building consensus and relationships are key. Both are professions that elicit negative feelings from the population. Both have documents for their guides and foundational principles. And in both professions, the trouble comes when those guidelines and principles are misinterpreted or ignored.

From one pastor who is continuing to learn the beautiful complexities of influencing people and seeing minds changed to any politician who may read this: Build consensus. Build it about the right things in the right way and with the right timing. Please. The only splits that are really good are banana.
No concept of a trillion
I have no concept of how much a trillion dollars is. Our church has been fundraising for our first church building. We've been nomadic for 18 years! The price tag for our building is $6.5 million. I thought that was a mammoth amount. So what does a trillion look like?
Let's start with $100: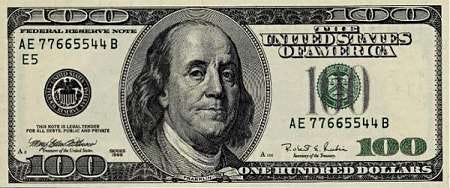 A packet of one hundred $100 bills is less than 1/2" thick and contains $10,000.
It could fit in your pocket easily and would surely impress your friends if you pulled it out:

In the image below, you see a nice young man standing beside a packet of one hundred $100,000 packets.
That's a million. You could easily put this in your backpack or glove box and win friends and influence people. If you spent $1000 a day, it would take you about three years to spend that million dollars. Most of us would be hard pressed to spend it without significantly adjusting our lifestyles. That's a BUNCH of four for $4 at Wendy's!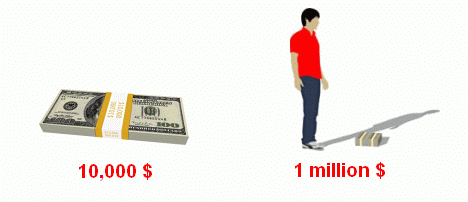 Now $100 million looks pretty impressive.
You'd need a closet to hide it. It would fill up the back of a large SUV. That's ten thousand of the $10,000 packets.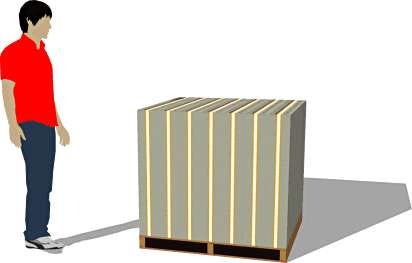 You'd need a large garage (but I'd recommend a bank) to store $1 billion.
Finally, we get to $1 trillion.
This boggles the mind. The nice young man who's been helping us with perspective is still in the bottom left corner.
HT: Page Tutor for these images
And one-half of Congress just voted to spend TWO TRILLION dollars (double the image above). I don't think 90% of Congress has a clue what they've just done. It's reckless and irresponsible.
Brewster's Millions
Richard Pryor and John Candy starred in a movie in the 1980s about a washed-up baseball player who learned he inherited a $300 million fortune from his deceased, rich uncle. To get the cash, however, he had to spend $30 million within 30 days -- and have absolutely nothing to show for it. The movie is a run, rollicking account of how hard it was to do so (and the ridiculous lengths he went to). HT: Young Finances for this movie reminder.
https://www.youtube.com/watch?v=NDQPsH20RmY
Unfortunately, what Congress has just done - along party lines - is not comedic. While it may take you or I seven years to spend $10 million, there are 269 individuals (219 in the House and 50 in the Senate) who are willing to spend this:

in less than a week.
Divisive
The Democrats have ramrodded a bill full of pork and paybacks to special interests through Congress, much like they did the Affordable Care Act (did we not learn lessons about divineness then?). President Joe Biden pledged to work toward unity. Splitting both the Senate (50-49) and the House (219-212 when they voted on a version of this bill) is not the way to inspire, heal, help and lead. It is the way to further split and fan the bonfire of vanities and hypocrisy that exist in BOTH parties.
There are real concerns about what's IN this $1.9 trillion piece of stimulus. Even the Congressional Budget Office says that the economy is on track - without this added debt - to see growth this year. "The GDP is projected to grow by 3.7 percent in 2021, returning to its prepandemic level by the middle of the year." We know that there are billions in this package that are not related at all to COVID relief, things such as "$480 million for grants to fund activities related to the arts, humanities, libraries and museums, and Native American language preservation and maintenance." The Wall Street Journal's editorial board panned the legislation.
What is the solution?
We need perspective - about how much money this is, about the importance of compromise and cooperation, and about the lessons of history. So many people don't want to get involved in "politics" - associating it with corruption, incivility, vindictiveness and banality. It's past time for our best and brightest to get involved.
What does "get involved" mean to you?
Here are some suggestions:
Begin at the local level. School boards, city councils, and boards of supervisors are all first steps. Quit assuming that "someone else" will get involved and do it yourself.

Change your attitude toward politics. See it as working with others to bless others.

Spend an hour. Do the work. Get the names, emails and phone numbers of your school board members, city council, state delegates, and Congressional leaders and Senators. Stay active with quick emails, phone calls.

Stay informed. If you're depending on MSM for your main source of information, you're only getting one viewpoint. Find alternative news sources to complement those as well as independent journalists to follow and read.

Be aware. There is a strong movement afoot to radically change traditional values and seize controlling interests in our institutions and organizations. Don't be naive.

Be hopeful, kind, shrewd and humorous. The days are too significant to lose your cool, your faith and your soul. Gather with like-minded people for prayer, encouragement and counsel.
Wherever you lean - right or left - on the political spectrum, I would assume you're troubled that our new administration seems to be continuing the same alienation and demonization of its "foes" as the previous administration. When looking at the previous election results, we have to acknowledge that our nation is evenly split. So our "foes" are our neighbors, church members, classmates, family and coworkers. It's past time for collaboration and a fresh spirit. We'll have to start small - with civil dialogue and earnest desire to bless one another here. But let's build momentum together and demand better from folks in DC.
By the way
If you want to give toward the $6.5 million for a church building, it would be greatly appreciated! Send one of those little packets of money pictured above to this link. More info here. ;)