Volcano eruption cancels flights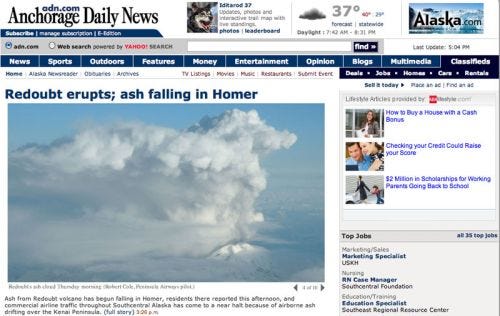 Alaska went from beautiful to bizarre on Thursday.
We were supposed to fly out Thursday night, so Mike went back to work to begin some return to normalcy and routine. But at 9:24 a.m. Alaska Time (12:24 p.m. CST), Redoubt erupted again. This time, however, it was a tremendous explosion that shot debris and ash thousands of feet into the air.
Volcanic ash apparently is not good to breathe or to run an engine in, so the Ted Stevens International Airport in Anchorage promptly begin canceling all flights out after noon. Enter the Nobles. Stuck in Alaska.
We called to reschedule, and the earliest possible time they could fly us back to Little Rock was on Monday night. The Hales family is freaking out. We've exhausted our planned activities, and we're still here! Hahahahahaha. (Wicked laugh)
Soooo.... looks like we will be having some extended games of tiddlywinks. And let's hope Redoubt settles down. This could be a much longer trip than planned. If it is delayed again, I'm renting an old truck and strapping Carolyn to the top like Granny on Beverly Hillbillies.