Wednesday at the crack of dawn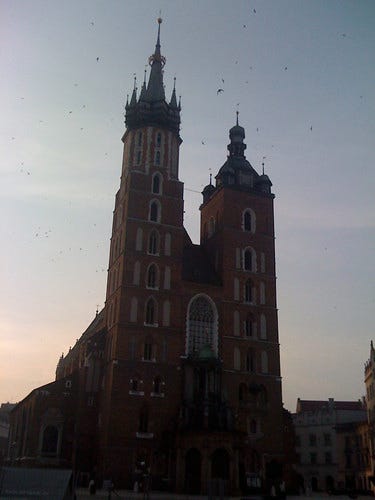 I woke up in Krakow. At 4:50 a.m. local time. Wiiiiide awake. So off to the shower and then to find Coffee Heaven - my favorite coffee hangout here in Poland (that I know of so far). I was looking forward to seeing if I remembered how to navigate the tram ride.
Imagine my surprise to discover that Tracy was up and showered as well. I didn't think campus ministers knew that the sun actually comes up after it goes down... ;)
So off we went. First stop was an ATM machine. Next stop. Buying a tram ticket. It all came back. It was a flawless ride to the Rynek Square. Imagine our disappointment to discover that coffee shops in Poland don't open until 7:00 a.m. It was 5:30 a.m.
We wasted time by exploring some side streets and discovering free WIFI zones with my iPhone and Tracy's iPod Touch.
Finally... 7:00 a.m. and hot coffee and muffins. We both took some time to look at the team's scripture reading for the day: John 6.26-51. The questions: Why did Jesus say He was bread? How does manna relate to Jesus? What is your own hunger level for this bread of life?
Finally.. back to the hostel to discover all the girls, including Carolyn, still in bed. This should be fun... More later.