When I sold one book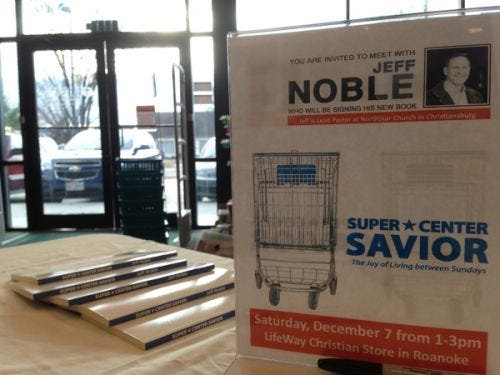 Last Saturday I did a book signing for Super Center Saviorat the Lifeway Store in Roanoke, Virginia. I was impressed with the professionalism and kindness of the staff there. Having done a book signing at Barnes & Noble this year, I didn't know what to expect from Lifeway.
The place was packed with Christmas shoppers. When I arrived, I got excited. Christian book. Christian bookstore. Cha-ching. At least that's how it's supposed to work, right?
As I was setting up, I had to make a few trips to the car. When I reentered the store, there were 3-4 people around the table looking at the book. I was pretty stoked. Then I sat down. And the people vanished.
Over the next two hours, I had several people come visit, but only one person bought the book. I signed two - the one that was bought and another that a friend brought in who had previously purchased it.
I can't tell you both how disappointed and grateful I was.
Self-publishing is hard. Really hard. Especially for those of us who have a full life outside of book promotion. I've learned a lot this year, and I don't think I'd go the self-publishing route again. To have a bookstore allow you to do a book signing is awesome. To sell one book is disappointing - to say the least.
On the other hand, I was grateful. In spite of the jarring reality of a failed book signing, I didn't feel disappointed. What little I did feel was muted and quickly passed - even before I left the store. I can only attribute that to God's gracious provision of encouragement. I should have felt a lot of negative emotions. But I didn't, and for that, I am truly grateful.
I'll be making a few more observations about the book and self-publishing, as well as future projects over the next week. Stay tuned.