Wifey's photoblog...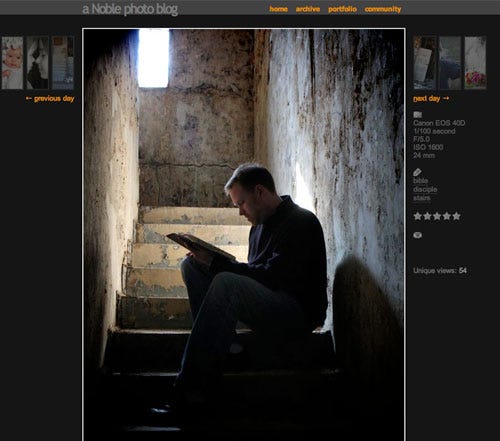 Carolyn started a photo blog a few days ago that she's been very consistent in updating. This comes after her initial attempt at being a blogger ended with a whimper. She just hated feeling like she had to write something. After months of chiding, I finally gave up. She has so much to offer the world, but no amount of guilt, bribery, or laundry could convince her to create with words.
Enter photo blogging.
After discovering aminus3.com, I suggested she blog a photo a day. That immediately caught her imagination, and she has been sharing with the world some of her amazing photography. The ability to post new and old, the global community at aminus3, and the feedback she receives has been great.
So I wanted to point you all her way. Bookmark the site and leave a few comments. Maybe we can keep her spreading her talent for our enjoyment.
Her site is anoblephoto.aminus3.com. Oh, and if you're interested in a shoot, her main photography site is anoblephoto.com.