Yard sale of the week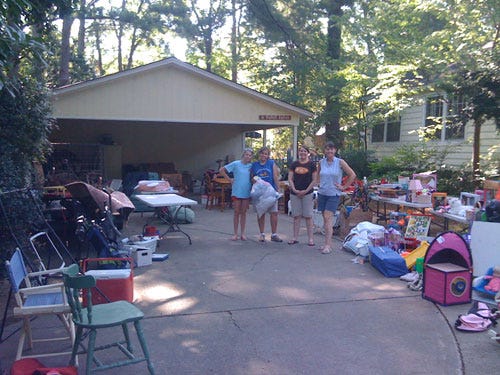 Over last weekend, we started hauling junk and treasures out to our driveway and carport. All week long, we've continued to add items daily as we clean rooms, attics, and closets in our house. It's been quite the adventure. Here are some things you learn during a week-long yard sale:
No matter how many times you say, "You get all this stuff free if you buy the house!" and no matter the tone of voice, you get no takers.

Just because your iPhone says it's 95 degrees doesn't mean it really is.

if you have to take a 4-hour shift, watching your junk and dealing with potential junk buyers, the best shift to take is in the a.m., from 8:30-9:00. (Yes, I know that's not 4 hours, but if you plan right, you can have a meeting during that time that takes you away...)

Yard sale shoppers are some of the most, um, interesting and unique people on the planet. (I actually sprayed air freshener in my carport after one of our customers left today. The alternative was gagging.)

You discover the drama of nature that you never knew before. It was like Discovery Channel to watch a perpetual fight between a woodpecker and a tree full of squirrels. The squirrels had made a nest in the hollow section of a pine tree. That was the same section that the woodpecker kept returning to to, well, peck. The squirrels were rather loud in cussing the poor pecker out in squirrelese. I was shocked at the language they were using. It was nuts.

You can get a lot of reading done while manning a yard sale. And you can tell which pages you've read by the sweat drops in your book.
People will buy anything. I repeat - anything.
Upcoming Schedule:
Carolyn and I are leaving for Poland on Monday! I'm excited about going back to work with Team Krakow. They're an incredible group of IMB missionaries.
Our kids flew out today to spend a week with their grandparents in New Mexico. Sam was at Kanakuk two weeks ago; he and Adelyn were at Lake Tiak O' Khata for kids camp with First Baptist this week. By the time they're home again, we will be just about ready to move out to Virginia.
We are trying to schedule the movers for July 15. We're hoping to cram a float trip to the Buffalo River into July 14. I can't believe my kids have never been! It's an Arkansas classic outdoor experience.
So stay tuned around here! I moved my web servers this week on top of everything else, so most of my sites have been offline for a couple of days. I'll be posting from Poland next week. If you'd like to read last October's entries about Poland, check them out here.