A year for tears
A sabbatical
About a year ago, I was beginning my first sabbatical. You can read about my tear-filled drive away from church in my Overwhelmed entry here. As I sit on our back patio on a beautiful Saturday afternoon in Blacksburg, Virginia, it seems like an entire lifetime has been lived in these last 12 months.
A pandemic
For starters, Virginia has been one of the most locked-down, governor executive ordered states in response to the COVID-19 pandemic. On May 31, 2021, the last COVID-19 mitigation measures were allowed to expire. So much has changed as we all emerged from our cocoons. Life patterns have changed. Relationships strained over different approaches to living life under a pandemic have begun to heal. Now that we can mingle freely with one another, damage assessment - mental, spiritual, emotional and practical - can be made. I was having coffee with a friend last week and simply asked how he's been. He paused, and before either of us knew what was happening, there were tears.
A church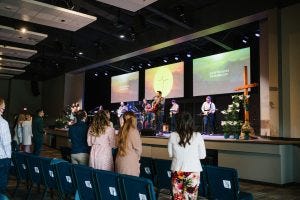 Our church has been mobile since its inception in 2003. We've met in the middle school for 18 years. We're a young, contemporary congregation that I'm deeply fond and proud of. We found new ways to minister in this past year. On March 15, 2020 - the Sunday the middle school was closed to us due to the pandemic - we began live-streaming our services. We had never done it before. One Sunday we weren't, and the next Sunday I was preaching to a camera in the back of our rented office unit, and it was being broadcast live via the magic of the internet.
Over the course of this past year, construction on our church home was completed! As God would have it (because we couldn't have planned it), our first Sunday in our new facility was Easter Sunday 2021. Several times that morning prior to the services starting, I felt my throat tighten and my eyes moisten. I did NOT want to cry while I was preaching. And then it happened. 15 minutes before the first service, I stood at the front doors and watched car after car pulling into the parking lot and people excitedly making their way toward the building. So many people. I couldn't help it. I teared up and found an empty room to whisper words of deepest gratitude to Jesus.
Hurt
This past year has been a year of intensity and hurt. I've been hurt by some, and I know I've hurt others. Only malicious people wake up in the morning looking forward to intentionally hurting another. I've had to remind myself of that multiple times this past year.
You don't have to read far in my COVID Chronicles series to know where my thoughts lie regarding our response to this pandemic. One thing I've learned (though I don't understand it) is that some subjects are simply taboo these days. You can't tell people who you voted for, criticize Dr. Fauci or have a below surface-level conversation about race with most people. Sure, people are doing that on podcasts and YouTube (and some are being banned for it), but it's really hard to have an honest discussion without someone being hurt or offended. Four years ago I wrote a blog titled Assume the best. I think we need it now more than ever.
During this past year, it hasn't just been COVID. We've had cultural turmoil and a contentious election. In reality, all of those are just a backdrop to our humanness. We hurt and we hurt others, 99% unintentionally. However, social media became especially rancorous this past year, and so I got off. I had had enough of strident voices, cancel culture, censorship and an unwillingness to engage on deeper levels.
Even in personal conversations, hurt happened. After one particularly soul deep conversation with a church member this past year, I left hurt. I knew it. They knew it. I get it. I have a platform. I genuinely labor to keep my opinions out of my preaching, unless I am confident they are informed and shaped by a biblical worldview. Preachers have a powerful role in helping believers apply scriptural truth to modern living. It sometimes produces friction to do so. My strategy after a "hurt" is to find a quiet place (most often in my car) to uncork my tear ducts. It's a bit awkward for a grown man to cry in his car, but it is private.
A year for tears
[As an aside, when I write "a year for tears," I can't help thinking of the 80s group Tears for Fears and their song Everybody Wants to Rule the World. Here's their music video for that. You're welcome.]
https://youtu.be/aGCdLKXNF3w?t=33
It's been a year for tears. Some have come quickly. Some have snuck up on me. I think that we're on the verge of a tear tsunami in the days ahead, as the skies clear and "life" attempts to be jumpstarted. We need to give each other permission and space for them to fall freely.
I'm comforted by scripture's description of our God being a God of comfort.
"Blessed be the God and Father of our Lord Jesus Christ, the Father of mercies and the God of all comfort." (2 Corinthians 1:3)
It's wonderful to learn that when Moses asked God for permission to see His glory, (Exodus 33.18) God granted his prophet's request. He passed by Moses a few days later, and as God did so, He proclaimed His name - the LORD (Yahweh). In addition, God elaborated on who He is:
"The LORD—the LORD is a compassionate and gracious God, slow to anger and abounding in faithful love and truth, maintaining faithful love to a thousand generations, forgiving iniquity, rebellion, and sin." (Exodus 34.6-7)
I'm grateful in these days of wonder and recovery to serve and love and know a God who is active in comforting, self-identified as compassionate and gracious, and who promises that in heaven there will be no more tears. In the meantime, we can rest in knowing that every single one that falls is recorded and kept Him. He knows our tears.
"You yourself have recorded my wanderings. Put my tears in your bottle. Are they not in your book?" (Psalms 56:8)